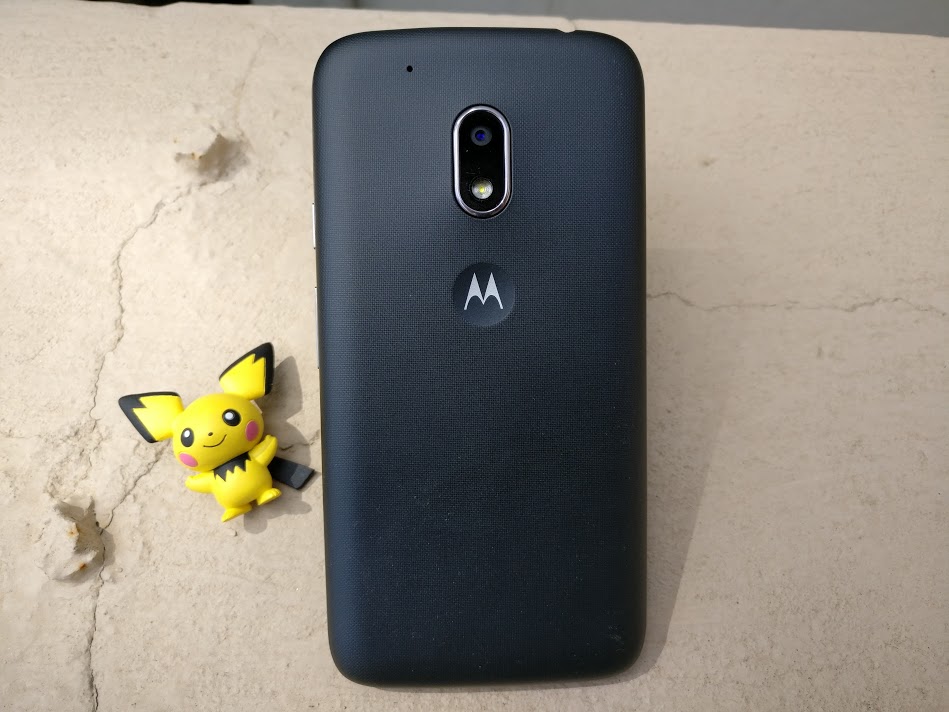 3 years ago when Motorola introduced its 1st generation G series, not only did it change the fortunes for the company but it also proved to be a trendsetter in the smartphone industry – the way an entry-level-midrange (yeah that is slightly confusing at first glance! but you'd know in a bit why we say that) is offered, priced and more importantly the way they perform.
Fast forward to 2016, in between when Lenovo acquired Motorola and has changed lots of things but has kept the core intact, at least to a certain extent. This year, we see not one, not two but 3 variants in the 4th generation G series – the G4 Plus, the G4, and the G4 Play. What we will walk you thru is the latest release in that G series which is also the lowest priced – the Moto G4 Play coming at 8,999INR, after using it for over a week.
What's inside the box: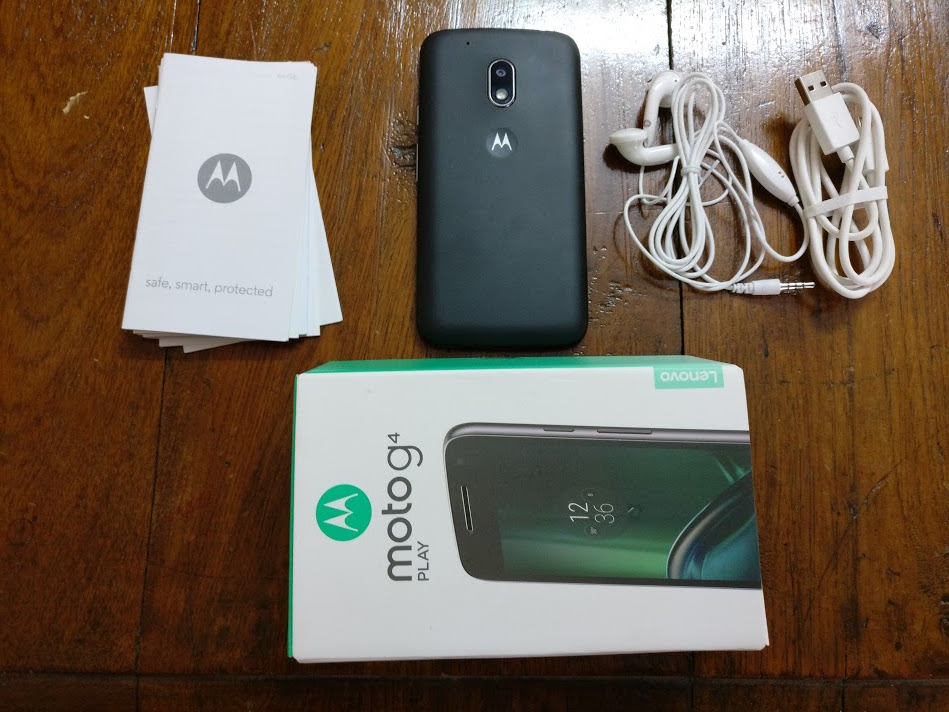 Moto G4 Play phone 
Micro USB cable 
Fast charging brick 
Lots of paperwork 
Pair of earphones 
Design and Display – nothing fancy, nothing too wrong either
The G4 Play follows the same design tone as its elder siblings, Moto G4 Plus and Moto G4. Just shorten the height and width of the G4 by a bit, get rid of that one LED flash and that laser autofocus and you've pretty much got the G4 Play! So while the overall design lacks any kind of appeal, there is nothing wrong with it either. It is plastic all around, a metallic (made of plastic again) frame that goes all around, a tall forehead and chin (iconic of Motorola phones!) ensure that this is not-at-all-attractive looking phone but rather fits well into your hand for single-handed usage.
Coming thick at 9.9mm and weighing 137 gms the G4 Play has a rubbery back that helps in gripping it. Power and volume rockers on the right and nothing on the other, a micro USB port on the bottom and a 3.5mm audio jack at the top. And that back cover is removable as well. All of this comes with a splash repellent ability for that occasional spur of water.
The G4 Play comes with a 5" IPS LCD HD display packing 294 pixels per inch. Very good viewing angles for a display that can get really bright but poses difficulty when brought under the sun, thanks to that reflective screen. On a good note though, it's protected by Gorilla Glass 3 to safeguard the phone from scratches and falls to a certain extent.
Operating System and Performance – that typical butter smooth "reliable" delivery
Just like all the Motos, the G4 Play comes with a very stock version of Android Marshmallow with minimum Moto additions for a couple of gestures and tweaks. Gestures are restricted to a swipe up from the bottom to reduce the size of the contents on the screen and picking up the phone will light up the notifications information. Double chop and twists are not to be found here, although clicking the power button twice can fire up the camera anytime.
For a phone meant for basic/normal usage, Lenovo has chosen Qualcomm's Snapdragon 410 Quad-core SoC clocked at 1.2GHz to power the phone. This is a highly reliable entry-level processor but still coming from much earlier which also powered the G3 from last year. With 2GB of RAM and Adreno 306 GPU fit in, 16GB of internal memory of which close to 12GB is available to the user which can also be expanded up to 256GB via a dedicated micro SD slot, the overall performance is satisfactory.
We were surprised how the Asphalt 8 too did decently well. Of course, Nova 3 and Mortal Kombat had major lags but most of the entry-level games do well. But there are signs of certain slowdowns – for instance, the painting of the settings menu, loading of apps such as Facebook and Instagram, when you shift screen orientations, all of these is where that lack of power shows up but it is liveable.
Signal reception is top of the line so are the sound volumes and clarity. The Dual-SIM trays take in 4G LTE SIMs though only one of them will go 4G at any point in time. Speakerphone did very well too. Speaking of which, the placement on the front top, along with the earpiece seems to have advantages. It gets really loud and holds on to its own in terms of crispness. Good for gaming and media consumption. There is also an FM radio app for the ones who cannot live without it!
Battery Life – mean built champ!
Coming with a 2800mAh "removable" battery, the G4 Play surprised us with its performance! Even with 4G LTE data all day long, it easily got thru the day, every day. On heavy usage that included an hour of gaming, it hit 3-3.5 hours of SOT while on other days of medium-heavy usage it reached 4-4.5 hours of SOT with 10-20% battery still left.
Lenovo claims fast charging ability here but using the provided fast charger brick or other ones took almost 2 hours to charge up from 5-10% to 99-100% which is actually nowhere near fast charging. But there is one point to be noted here which is the first 50% charging happens really rapidly, in almost 45 minutes and then the remaining 50% is rather slow. Not bad if you wanna quickly top up your battery when it is low.
Camera – Delivers "consumable" quality
The G4 Play comes with an 8MP autofocus camera with f/2.2 aperture on the rear with a single LED flash and a 5MP front shooter. The rear camera does exceptionally well for its price with fast processing, though the focus struggles to lock itself many times. We had to manually tap to help it focus properly to ensure we got a sharp output. Daylight pictures, landscapes, close-ups come good though a lot of light in the background will throw the exposures out of whack. As the light goes down lots of noise make their way into the pictures.
There is a dedicated HDR and auto HDR mode that bumps up the quality by a bit. The panorama mode is available too but the stitching needs a lot of work. Videos can be shot at 1080p at 30fps and they come out good enough for social media sharing. As long as you don't start zooming in a lot, the overall output is fractionally better than what we've seen on the Redmi 3s/3 though the MP count is better on that. The front 5MP autofocus camera with f/2.2 aperture does just OK, nothing really much to talk about it.
The camera app is a typical Moto Camera app. You can either choose to tap to shoot or touch to focus and then use the shutter button to shoot. Swiping right will bring up the settings menu to change things for the camera, the video, and other rudimentary ones. There are also options on the main screen to go auto / always-on / off for the flash and the HDR mode. On the bottom, there are toggle options for camera, video, or panorama modes. We love that subtle effect of the picture doing a peep and vanish once it's processed!
Moto G4 Play Camera Samples –
View the above camera samples in their original size on Google Drive
Verdict – Reliable
Coming in black and white colors with an asking price of 8,999 INR, the Moto G4 Play is not a phone that will come good when you throw it against Redmi 3s or Zenfone Laser or Coolpad Note 3 Lite and so on that come around the same price. It lacks many sensors including a fingerprint scanner that others offer, a premium build, and totally shrugs off from all the gimmicks. It doesn't try too hard and just sticks to perform well in what the phone is expected to – telephony, fluid UI, battery to take you thru the day, and a decent camera.
Whatever it offers is "highly" reliable and Motorola is known to be good with software updates too. With a bonus of water repellent ability, the G4 Play sounds a tad pricy at Rs. 8,999 but I reckon that is the price one pays for a reliable brand. With the purchasing process being easier and better than those stupid flash sales, we totally recommend the G4 Play as long as you're not looking at it for heavy gaming and multitasking.
The Good:
Butter smooth UI
Good loudspeaker
Very good battery life
Water repellent ability
Removable battery
Dedicated microSD slot
Good camera in its price range
Easy to purchase
Very good post-sales service
The Bad:
No fingerprint scanner
A highly reflective HD screen
Clunky boring design
Average GPU that cannot do heavy games
A tad pricey compared to the competition