Motorola India recently released EX series Dual SIM handsets named Motorola EX128 & Motorola EX115. These mobile phones offer more features when compared to dual Sim phones from Samsung and Nokia.
Motorola EX128 is a full Touch screen Dual SIM mobile with 3.2 inch TFT screen, 240×400 resolution (WQVGA) displaying 256K colors. Comes with a 3MP camera with digital zoom which captures photo & video in good quality, supports captured video playback. Other features include 3.5mm audio jack, FM radio, MP3 player, GPRS/EDGE, Bluetooth 2.0, WAP Browser, and last but not the least a handy File Manager.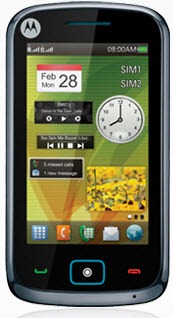 The EX128 has a built in PUSH email client. The phone is JAVA enabled which provides space for installation of applications & games. The phone has a standby time of up to 250 hrs & talk time of up to 200 min. Size is 107 x 57 x 12.8mm weighing just 80g.
EX128 has a retail price of Rs. 6,990.  [Buy Online for Rs. 5749]
Motorola EX115 is not a touch screen phone instead is a phone possessing QWERTY keypad. The mobile phone weighs 102 grams has a 2.5 inch display with screen resolution of 320×240 pixels. It features a 3MP camera suitable for photo, video capture & playback, 3.5mm audio jack, GPRS with EDGE, WAP Browser, Bluetooth V2.1 A2DP, FM radio & JAVA Enabled. Expandable memory up to 32 GB via microSD card.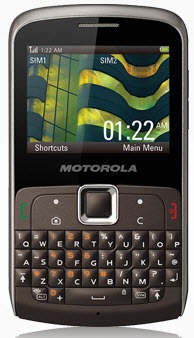 EX115 has a retail price of Rs. 5,990.  [Buy Online for Rs. 4839]