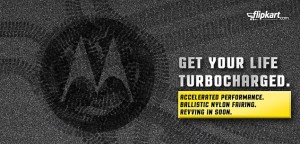 Riding on the waves of its huge success worldwide and specifically in India, and just a day ahead of the stipulated launch of the entry-level Moto E, Motorola has formally launched the Moto Turbo, which is essentially one heck of a loaded beast! This is known in the US as the Moto Droid Turbo which was released towards the end of 2014, owing to the fact that it delivers elongated battery life. Last week, there were some teasers from Flipkart indicating the launch and now it has gone live with the listing and it will set you back by a whopping 41,999 INR. Motorola is no more going to throw away those high-end specs for low prices and this is not the first time we are seeing the trend. The Nexus 6 too was a highly-priced one, breaking the notion of a 'highly affordable' phone with the latest specs. Talking about specs, the following is what the Moto Turbo would carry:
2.7 GHz Qualcomm Snapdragon 805 QSC 8084 Quad-Core Processor
64GB of internal memory
3GB of RAM
21-megapixel primary camera with f/2.0 aperture, auto-focus, 4K recording, and dual-LED flash
2 MP secondary camera
3900 mAh battery
Android v5.0 (Lollipop) OS
4G LTE (Cat 4), GSM/ EDGE/ HSPA+
Color options – Black
Now the above list is simply one heck of a spec list that will be shooting all cylinders against the other flagships of Samsung, HTC, LG and likes which are slightly better and latest processors. But what will set the Moto Turbo apart is the whooping 3900 mAh battery that is supposed to take you thru 2-3 days even with elongated lengths of usage. What more? it's also water-resistant plus the fact that it has a 21MP camera sweetens the deal (not that we think more megapixels means a better camera but numbers do count for many). The Moto Turbo is priced at 41,999 and comes in just one variant – 64GB internal memory plus the black color. If you were to use an American Express card, you may strike a 10% discount deal. The Turbo will follow the rest of its predecessors in being an exclusive availability on Flipkart
A gorgeous pixel-packed AMOLED screen, a powerful camera, whoopingly powered battery, 64GB of internal memory – these are the strengths of the much-awaited Moto Turbo. But at 41,999 INR, will it still make good sales with likes of OnePlus, Xiaomi, and Lenovo giving away high specs across different categories for prices lower than the others? We will have to wait and see as we will try to lay our hands on the Moto Turbo and come back with a detailed review. Stay tuned as at the moment we are super excited about the Turbo!
Pre-Order Moto Turbo @Flipkart