Mozilla has just released the final version of Firefox 4 for Android devices and Maemo (Nokia N900). Firefox for mobile is available in more than 10 languages. It is up to 3x faster than the stock browser on Android, delivers an intuitive interface, unparalleled customization and support for modern Web technologies like HTML5. Firefox for mobile offers features like tabbed browsing, bookmarks, add-ons and Firefox Sync.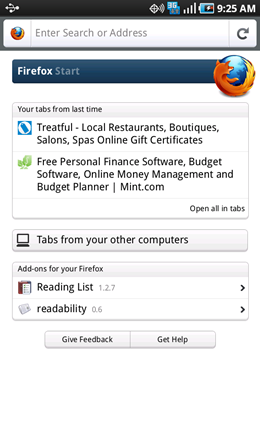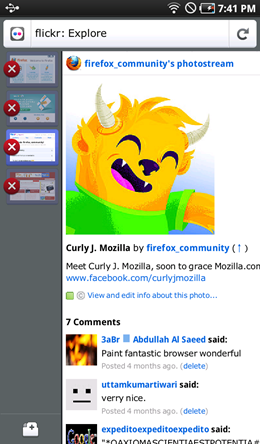 What's New in Firefox for Android and Maemo:
Streamlined Interface
Focus on Web content: Features like tabs, one-touch bookmarking and browser controls that stow away when not in use help users focus on the websites they visit
Browse More, Type Less
Awesome Screen: Type less with easy access to history, bookmarks and open tabs
Save to PDF: Capture important websites, like directions or a boarding pass, to view offline
Share Page: Share websites via apps like email, Facebook, Twitter, Google Reader and more
Add Search Engine: Customize your search engine list
Private and Secure Synchronization
Firefox Sync: Access Awesome Bar history, bookmarks, open tabs, passwords and form data across multiple computers and mobile devices with secure end-to-end encryption
Most Customizable:
Firefox offers thousands of ways for users to customize the features, functionality and look of their mobile Web browser with Firefox Add-ons
Cutting Edge Tools for Web Developers:
Firefox improves existing tools like CSS, Canvas and SVG to enable developers to make exciting Web pages
HTML5 support in Firefox for Android and Maemo includes Location-Aware Browsing, device orientation, accelerometer, desktop notifications and more
The JavaScript engine incorporates the new JägerMonkey JIT compiler, along with enhancements to the existing TraceMonkey JIT and SpiderMonkey's interpreter for faster page-load speed and better performance of Web apps and games
Mozilla Firefox 4 for Android and Maemo – Release Notes
System requirements: Firefox is available for Android phones (2.0 and above) and the Nokia N900. See the list of supported devices.
Download Firefox 4 App for Mobile from Android market or visit Firefox.com/m on your device to download it. You can also use the given QR code to install it.

Source: Mozilla Blog