National Winner 2009 of Doodle 4 Google Announced
Doodle 4 Google, is a competition put by Google where they invite K-12 students to play around with their logo and mould it with their brilliant and natural artistic skills.
The National Winner 2009 for Doodle 4 Google has been declared yesterday.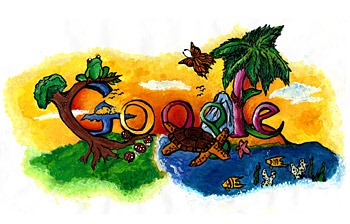 Christin Engelberth, a sixth grader at Bernard Harris Middle School in San Antonio, Texas has won this big contest. Her doodle "A New Beginning" express her feelings towards the Earth.
Prizes offered to the National Winner:
" The National Winner's doodle will 'go live' on the Google homepage for 24 hours. She will get a $15,000 college scholarship to be used at the school of their choice, a trip to the Google New York Office, a laptop, and a t-shirt printed with their doodle. Google will also award the winner's school a $25,000 technology grant towards their establishment.