A new stable release of Google Chrome is now out, bringing two most requested features: extensions and bookmark sync. The stable channel is updated to 4.0.249.78 for Windows, and includes the following features since 3.0:
Extensions
Bookmark sync
Enhanced developer tools
HTML5: Notifications, Web Database, Local Storage, WebSockets, Ruby support
v8 performance improvements
Skia performance improvements
Full ACID3 pass, due to re-enabled remote font support (with added defense against bugs in operating system font libraries)
HTTP byte range support
New security feature: "Strict Transport Security" support
Experimental new anti-reflected-XSS feature called "XSS Auditor"
Extensions let you add new features and functions to your browser. They were previously launched on the beta channel only. Now you can browse over 1,500 in extensions gallery and install them on the stable version of Google Chrome.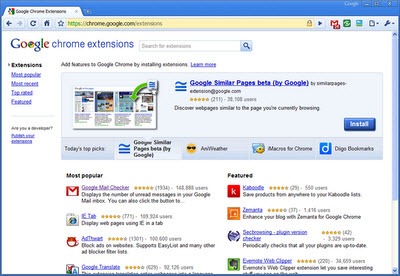 Bookmark sync allows you to synchronize bookmarks on all computers, so that when you create a bookmark on one computer, it's automatically added across all your computers.
via [Official Google Blog]