NirSoft is an amazing website that has developed and provided a unique collection of small and useful freeware utilities. All its utilities are portable, clean, and come very handy for most Windows users.
NirLauncher is a package from NirSoft, which comes packed with 124 portable freeware utilities for Windows, all of them developed for NirSoft during the last few years. The package is just 7.8 MB in size but includes really powerful and useful NirSoft tools.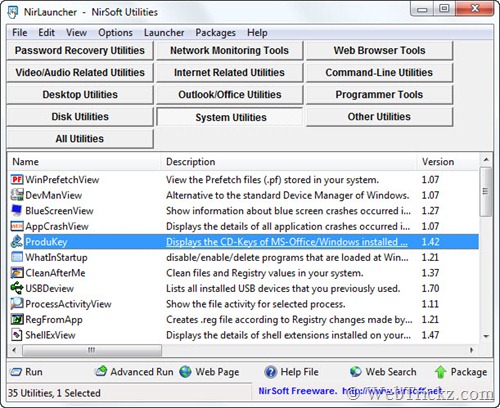 The package has allocated the utilities in 12 different categories, making it easier to find the preferred utility. 'All Utilities' category includes all the utilities from NirSoft. You can run the package As an administrator in Windows7/Vista and add it to Windows startup. The program has options to change Default Run settings and Advanced options.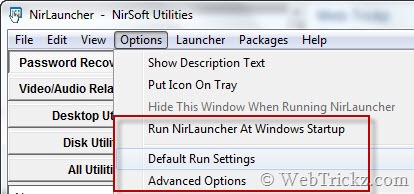 NirLauncher can be used from USB flash drive without the need for any installation. It also saves the configuration of every utility into a .cfg file on the flash drive. It works on all Windows, starting from Windows 2000 to Windows 7. Also supports x64 systems.
List of 124 Utilities included in NirLauncher package. This list is automatically updated when a new NirLauncher package is released.
Just download the zip file and extract it. Run the NirLauncher.exe file to access it.
Download NirLauncher   [Webpage]
via [Megalab.it]