Nowadays, USB Flash devices (Pen drives, memory cards) play a prime role in spreading virus, malware, trojan, worms, spyware over various computers. When a removable device is infected with malware, its 'autorun.inf' file is normally modified to execute the malware when it is connected or whenever the user double-clicks the infected drive.
No Autorun is a small portable tool, which can Disable Autorun and Blocks virus in USB flash/disk from auto-running. When a USB disk is inserted, this tool not only locks the autorun.inf file, but also locks all the autorun-related virus and other suspicious files.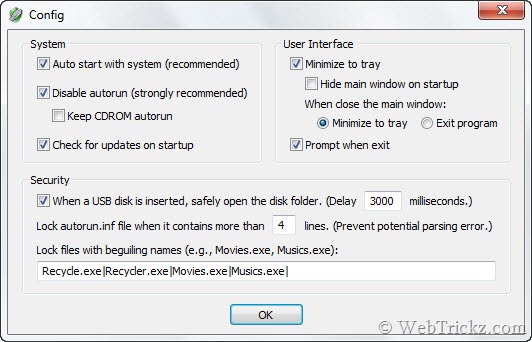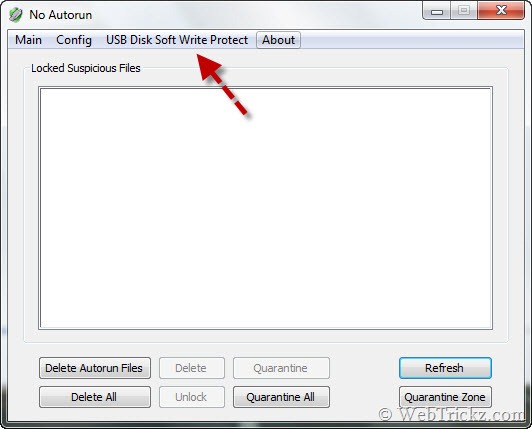 How to use –
After you run "No Autorun", the program waits for USB disk/flash insertion. Once you insert a USB disk, the program locks suspicious files in it, for example, autorun.inf file and other related executable files.
If you want to delete these files, just open the main window and click "Delete Autorun Files" or "Delete All". DO NOT try to delete them from explorer or elsewhere because they are LOCKED by "No Autorun". If you want to open one of these files, just open the main window, click the file and click "Unlock".
If you can't determine that whether the suspicious files are virus or not, just leave them there. "No Autorun" locked them so that they can't be executed and harm you computer.
It also has "USB disk soft write protect" function, which when enabled makes the connected USB disk as read-only. On enabling it, you'll not be able to transfer any data to flash drive or delete its contents. It's useful when your PC is already infected but you don't want to spread the virus to your USB flash drives.
Download No Autorun Free (41 KB)