Nokia has finally stepped in the race by introducing its first dual-SIM handsets at very low prices. Both the C series phones are low end but holds amazing features.
Nokia C1 offers double SIM functionality, means users can switch between two SIM cards by simply holding down a key. The mobile runs on Series 30 interface, the C1-00 comes with a boasting standy battery time of up to 6 weeks, room for 500 phonebook entries, and 250 text messages onboard. It also has some handy features such as a flashlight and FM radio with a standard 3.5mm headphone jack. Measures 15mm thin and weights 73g (with battery) and sports a full colour screen.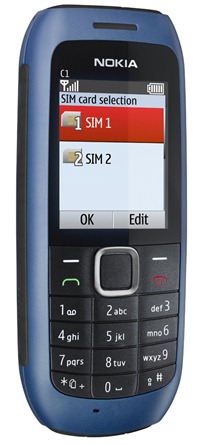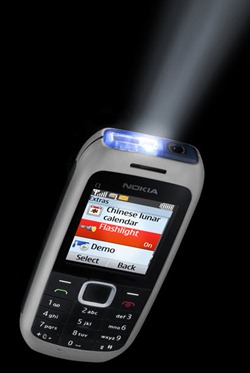 Nokia C1 (C1-00) will be available in the 3rd quarter of 2010 in blue, red, light grey and green colors, at a price of 30 Euros before taxes and subsidies.
Nokia C2 is a dual SIM mobile (not double SIM), means one handset can run two SIM cards simultaneously. Nokia C2 can keep both SIM cards active; meaning calls and text messages can come to either number while the phone is on. The first SIM card on the Nokia C2 sits underneath the battery and the second is 'hot-swappable'.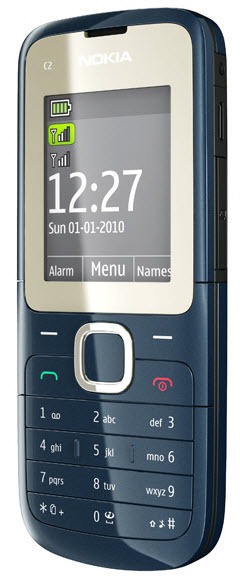 Nokia C2 is a Series 40 device which offers wide range of services via Nokia's Ovi Life Tools, Ovi Mail, people's favorite consumer email and chat accounts via Nokia Messaging. Built with FM radio and music player, phone supports micro-SD cards of up to 32GB.
One can store up to 1,000 entries in the phone book, and a standby time of up to 16.5 days. A VGA camera, Bluetooth and GPRS are other attractive features.
Nokia C2 will be coming for sale in Q4, at price of 45 Euros before taxes and subsidies. It'll be available in grey, black, magenta, dark blue or white.
Lets see when Nokia expands this Dual SIM functionality to high end mobile phones.