Norton, from Symantec has released the Beta versions of Norton AntiVirus 2011 and Norton Internet Security 2011, available for free public download now! Norton betas are developed to improve or maintain key performance benchmarks in installation times, scan times, memory usage; and commits to continue delivering the fastest and most effective security suite in the market.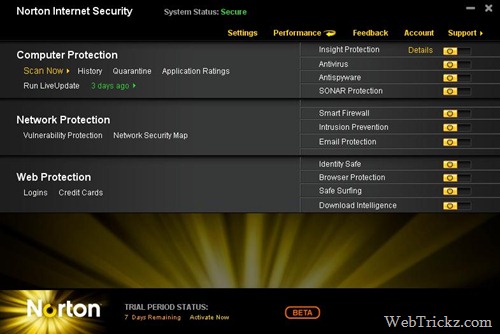 Download Norton AntiVirus 2011 Free Beta
Provides fast and light protection that won't slow you down or get in your way.
Proactively notifies you when other applications are slowing you down and impacting your PC performance.
Warns you if downloads are safe before you install or run them.
Download Norton Internet Security 2011 Free Beta
It stops viruses, crimeware and protects your identity online so you can work and play safely.
Includes all the features of Norton AntiVirus 2011
Protects your online identity so that you can search, shop and browse with the confidence of knowing you won't be a victim of cybercrime.
Norton beta testers are encouraged to share feedback and discuss their product experiences at Norton Public Beta Forum.
via  [QuickOnlineTips]