Google Chrome, the best and most popular web browser has turned more awesome with the introduction of a new smart feature that syncs all your tabs across devices and thus provides the ability to quickly access the tabs that you opened on your other device. Let's say, you have a Chrome session running on your computer, and perhaps you want to access it from your notebook on the go. Chrome beta now makes it possible! This is indeed a great and useful feature, earlier available in Dev releases.
To Enable Syncing of All Tabs Across Other devices, firstly install the latest Chrome beta on all of your devices. Then open Settings, click on "Advanced sync settings", and make sure the 'Open Tabs' option is checked (enabled by default if Sync everything is selected). You need to do this on all your devices that you want to sync and ensure that you're signed in to the same Google account as on your other devices. Now when you're on the New tab page, there will be a new option 'Other Devices' in the bottom right corner of Chrome. Just click on it to access tabs opened on your other devices like Chromebook, Macbook, PC, Android phone, etc.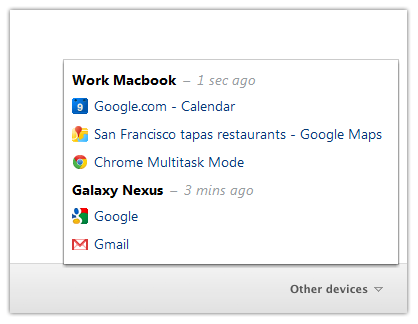 The tab's back and forward navigation history is also included, so you can pick up browsing right where you left off. If you use Chrome for Android Beta, the tab will also be available on your phone, right there in your pocket when you hit the road.
To give it a try, download the latest Chrome beta and sign in to your account. Enjoy!
Source: Google Chrome Blog