Google Plus has improved a lot and has introduced variety of great features in a short while. Recently, they added the option to Download Photos in full resolution and Google has now added another nice and much requested feature. Google+ now provides the ability to "Disable comments and Lock a post" before sharing to the Google+ stream. Though, both the options were available earlier too but it was only possible after making a post. Now you can make use of these option before you share, and after too.
The 'Disable Comments' prevents everyone from making a comment on a specific post and the 'Lock this post' restricts everyone from re-sharing your post with others.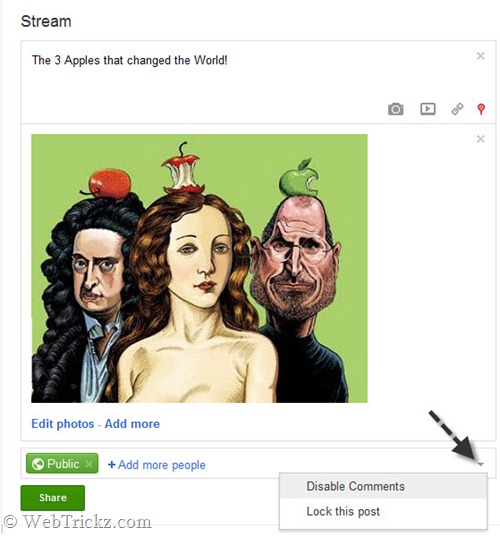 When you disable comments on a post, other people will no longer be able to leave comments (but they can still +1 and reshare it).

When you lock a post, people you've shared your post with will no long be able to reshare it with others or mention people you haven't shared it with.
To implement these options before posting an entry to Google+ stream, just tap the grey down arrow button as shown in above image. Then choose the preferred options.
An official demo video can be seen below: