Apparently, Facebook has introduced a lot of new features lately of which some are really impressive and useful. While navigating through Facebook, I just noticed a new option "Unfollow Post" that lets you Stop receiving notifications for a particular post when someone makes a comment on it. Certainly, this is a nifty addition and would be used by a lot of people who participate in a certain post and then receive a bloat of notifications related to it. Now you can just unfollow any post made by you or someone else and get rid from the frequent notification pop-ups.
Note: The 'Unfollow Post' option only appears on Facebook when you post a comment on a post. Also, it seems that the option can be seen only if the person at whose post you've commented, is friends with you or you've subscribed to his/her updates.

You can easily 'unfollow post' to stop getting notified when someone comments or select 'Follow Post' option to get notified again.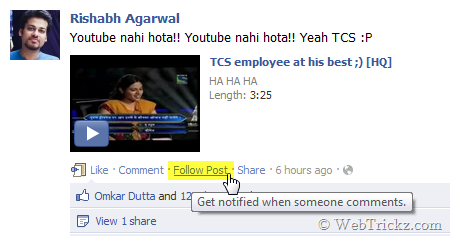 I hope Facebook adds it for everyone, regardless if someone is your friend or not.
~ Be a fan of WebTrickz on Facebook at facebook.com/webtrickz.