Now Manage your Airtel Prepaid Mobile Services Online
Bharti Airtel has added self-care service for millions of its Prepaid customers by allowing them to easily manage their mobile services online, directly from Airtel India official site. Being an Airtel Prepaid user myself, I found this added feature a boon as people no more need to spend their valuable time debating with the customer care staff. Yes, now you have the convenience of managing your airtel prepaid account anytime without calling CC centers and without cutting your account balance on such calls.
To manage your account, simply visit airtel.in and select 'Prepaid' option from the 'My Account' section in sidebar (direct link). There you'll need to input your 10-digit mobile number and the displayed verification code, which on proceeding instantly sends an access code to your mobile that you need to enter in the next step. That's it! You're now ready to manage a collection of services for your Airtel Prepaid connection.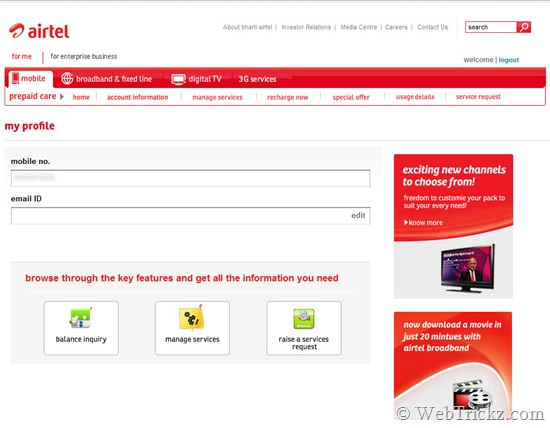 List of Things a Prepaid user can manage includes:
Recharge your account online
Get details of your balance and validity
Check handset info such as model no., IMEI and services supported
Find PUK details (mobile no., IMSI no., PUK number)
Start/Stop any Value Added Services
Activate 3G on your airtel mobile
Get last 5 recharge details
Get details of last 5 VAS debit
Place a service request and track it online
Request for itemized bill (charges applied)
View your call tariff details
Choose from the listed special offer for you and subscribe it online