Google URL Shortener (goo.gl), which previously can be used only via Google toolbar and other Google products has now got its own website (http://goo.gl/) using which you can easily shorten any long webpage links and keep a track of links and their analytics.
Though there are ample of URL shortening services being born daily, Google aims to be the stablest, most secure, and fastest URL shortener on the web.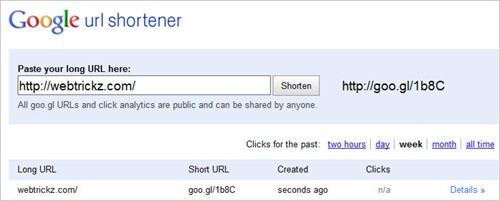 As per their blog post:
With goo.gl, every time you shorten a URL, you know it will work, it will work fast, and it will keep working. You also know that when you click a goo.gl shortened URL, you're protected against malware, phishing and spam using the same industry-leading technology we use in search and other products.
goo.gl also shows a list of URLs you've shortened in the past. You can find public, real-time analytics data, complete with traffic over time, top referrers, and visitor profiles of any shortened URL by clicking the 'Details' link. A QR Code can also be generated easily by just adding .qr at the end of shortened URL. eg: http://goo.gl/1b8C.qr