Google Plus has just added two most commonly requested features which are certainly useful for all the photography buffs out there on Google+. Users can now view the photos in a slideshow on full screen and also have the ability to download entire photo albums in one click. One can download their own complete albums and also of other users on Google+ who have enabled the download option in their account.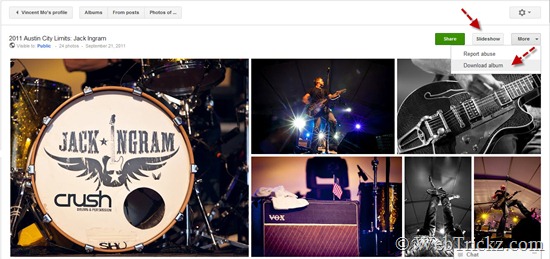 To view Google Plus photos in full-screen as a slideshow, simply open any picture in the lightbox or open a specific album and hit the 'Slideshow' button. Grab a seat to enjoy all the beautiful and adventurous photos in high-resolution along with your family. The photo change interval is around 3 sec and you can pause the slideshow anytime. For instance, view this stunning album by Trey Ratcliff.
To download complete photo albums, open the desired album page, click 'More' and then select the "Download album" option. A .zip file will start downloading, containing all the photos in that album. It should be noted that you cant download other users' albums if they've disabled the download option for the public. To turn off the ability for people to download your photos, go to Google+ settings and uncheck the option 'Allow viewers to download my photos.'
Google Plus has also introduced Custom URLs to a limited number of verified profiles and pages. Hope they soon implement vanity URL for all users and brands on G+.
Source: Google+   via  [Techwhack]