EBAY, one of the major online shopping store has now integrated eBay India site to their official mobile app for Android devices. The eBay.in Android app lets you easily compare store prices with prices on eBay.in. Using the app, you can get mouth-watering deals, compare prices, search & buy products and everything else on the go! The app is free, incredibly fast, has a cool and easy-to-use interface.
The latest update brings a lot of new features, bug fixes and lots of improvements. It offers the ability to quickly access your messages, reminders, saved searches, favorite sellers. The Browse option lets you choose from a whole lot of different categories of products which further have sub-categories. It lets you check your recent feedback ratings in just a click. There is a 'Scan' button to scan a barcode to find matching items on eBay or prefill listing details from eBay's product catalog.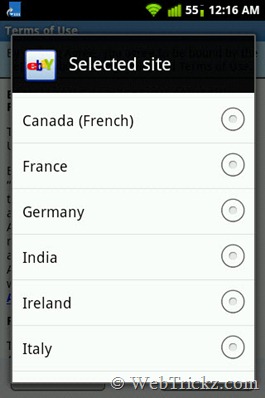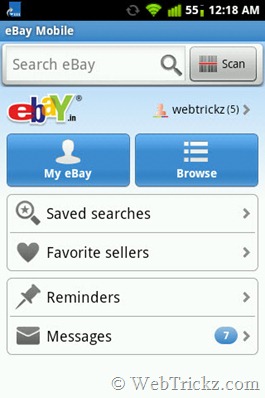 Advanced search options (press menu key to access) includes Search refinement options like category, price range, item condition, etc. and you can set your default search preferences for the app. The notifications keeps you instantly updated with all the updates. Settings can be customized as desired. There is an option to set preferred settings for general notifications, buyer notifications and seller notifications.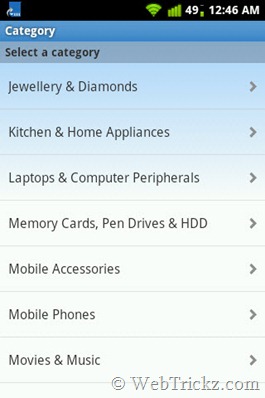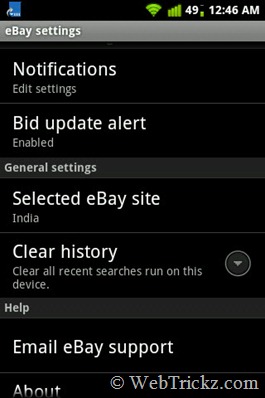 What's new in eBay Android App v1.6 –
Search and buy items from eBay India site
Shipment tracking
More notifications
In-app reminders about items requiring your action
Browse eBay categories
View favorite sellers
New search and refine features
Improved Item View layout
Additional listing features
Download eBay India App now from Android market and shop on the go! Alternatively, you can visit m.ebay.in from the browser on your phone.
Note: Upon installing the eBay app, make sure to select India as your eBay site.