Facebook has released a 'Facebook Like Button' extension for Google Chrome soon after Google introduced the Google +1 Button extension for Chrome. This doesn't seems a coincidence and certainly shows that Facebook is taking Google+ seriously. Now you can Like, recommend or share content with your friends on Facebook from any site you visit. To use this extension, you need to be logged in to your Facebook account.
Facebook Like Button lets you easily like, share or recommend web pages, images, links, videos and audio (HTML5 only) on Facebook from any site, with the click of a button. After installing the plugin, a thumbs up icon adds up to the top right corner of Chrome browser. You can Like any desired web page and can add a comment after liking it. It also displays the total number of likes a certain page has received.

You can also right click on any page to like, share or recommend content using the Facebook Like Button menu. If you choose to Share content, you can add a comment and control who sees your post.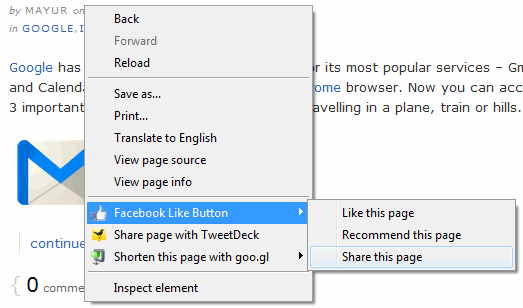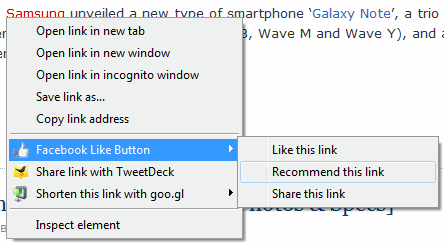 Facebook Like Button – Google Chrome Extension
via [TechCrunch]