Official guide to Windows 7 Tips and Tricks [E-book]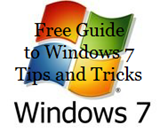 Sometime back, I shared a post on Download Windows 7 Step by Step guides aka Books Free. These books can help you, to get a deep knowledge about Windows 7 and maximizing your experience.
Microsoft is again offering, a Free Guide which includes various Tips and Tricks for Windows 7.
This book can Improve your productivity by serving you with some enhancements that are new in Windows 7. You must surely check this guide if you are already using Windows 7.
Download Windows 7 Tips and Tricks Free Guide   via   [Technix Update]