HDFC Bank Ltd. has finally released their official mobile banking application for iOS devices – iPhone, iPad, and iPod touch. HDFC Bank Mobanking gives you access to NetBanking services directly on your iPhone. The app is excellent, boasts a nice user interface, and offers access to almost all of the net banking services right on your phone, from anywhere and at any time! You need to be registered for NetBanking to use it. Do give it a try out now if you're an HDFC Bank account holder.
'HDFC Bank iPhone App' is free and a full-featured app offering access to a variety of banking services like Account details, Third-party transfer, Bill Payment, Credit Card, Demat account, Mutual Fund, Debit Card, Insta Alerts, and much more. You can quickly navigate through all the services using the menu button and tabs at the bottom.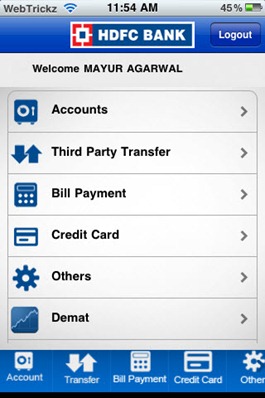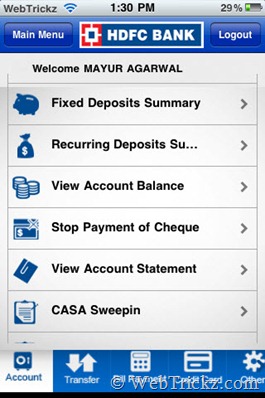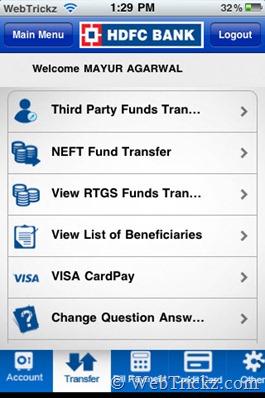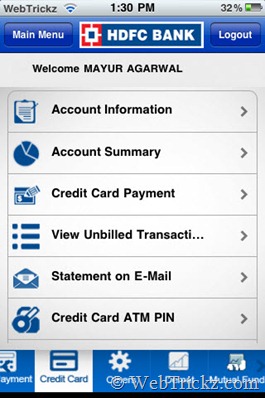 With HDFC Bank Mobanking App for iPhone, one can easily:
Pay utility bills, credit card bills, etc.
View Account summaries and Fixed Deposit summaries
Request statements, cheque book, stop payment
Transfer funds – Third-party funds transfer, NEFT fund transfer, View RTGS funds transfer, view list of beneficiaries, Visa CardPay, Special payments.
Credit Card – Check account information, make CC payments, view unbilled transactions, Autopay register/de-register, Register new card, Deregister card, etc.
Demat account – Check the list of accounts, client profile, transaction statement, Demat status, holdings summary, etc.
Debit Card – Check debit card status, instantly holist/block a card in case it's lost.
Insta Alerts – Manage alerts, set new alerts, edit/delete alerts set for your account.
Others – View contact details and Change the password of your net banking account
View TDS Inquiry and Hold Inquiry
To get started, download the app and simply enter your customer ID and IPIN.
Download HDFC Bank MoBanking iOS App [App Store link]
I hope HDFC Bank soon releases a similar mobile app for Android too. 🙂
~ Thanks Namit for the tip.
Update –  Official HDFC Bank MobileBanking Android App Released