Enjoy the Euro 2012 kick-off with the official Adidas – UEFA Euro 2012 Live wallpaper, exclusively available for Android. The Euro 2012 live wallpaper brings awesomeness to your Android phone with its cool design, vibrant colors, and the official Tango 12 balls. It's a must-have wallpaper for all the football fanatics out there! Free to download.
This is an amazing live wallpaper with a neat and smooth interface, adding a savor of football tournament right on your smartphone. The green grassy notched background retains the feel of a football ground where you can kick, tap, and volley multiple official "Tango 12" match-balls directly on your home screen. Customizable options include – set number of footballs, select country flag, select halfway lines, and transition times. In the center is the official UEFA Euro 2012 logo, Adidas logo, and chosen national flag that interchanges automatically. Overall a great live wallpaper, yet free.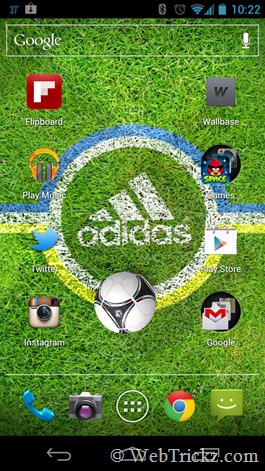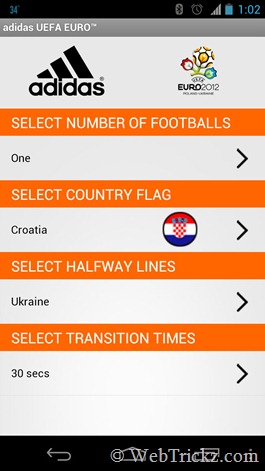 Select national flags from all 16 qualifying countries – Croatia, Czech Republic, Denmark, England, France, Germany, Greece, Italy, Netherlands, Poland, Portugal Republic of Ireland, Russia, Spain, Sweden, and Ukraine.
Add up to "5 Tango" 12 footballs to the screen at any-one-time.
Customize the halfway lines to reflect the host nations, Poland and Ukraine.
Made with official release software to ensure quality and performance
Officially licensed release from Adidas, sponsors of the UEFA Euro 2012 championship.
Do give it a tryout! [Download Adidas EURO 2012 Live Wallpaper – Size: 11MB]
~ Official UEFA EURO 2012 App for Android can be downloaded here.