One of the major problems facing smartphones is battery life. This is tackled in many of the recent phones by adding a bigger battery but the flipside to this is the fact that phones become bulkier and heavier, something that is not preferable. Another problem associated with this is that larger batteries usually have long durations of charging time unless they support fast or quick charging.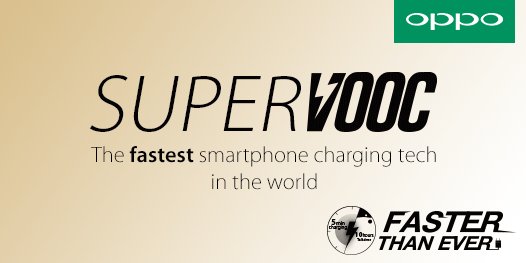 One of the companies that have pioneered a solution around this area is OPPO, with something called Flash Charge that provides a good surge of juice to a gadget in a very short amount of time and its branded VOOC. This was originally introduced in 2014 and OPPO claims as many as 18 million users are making use of VOOC Flash Charge that provides up to 2 hours of call time in just 5 minutes of charging. Now OPPO has launched the successor to the 2014 VOOC termed as "Super VOOC Flash Charge" that provides a whopping 10 hours of talk time with just 5 minutes of charging. This new tech can power up a 2500mAh battery-equipped OPPO smartphone to a full charge in just 15 minutes – this is truly revolutionary.
Usually with rapid charging the temperatures shoot up but OPPO is tacking this with a 5V low-voltage pulse-charge algorithm that pairs with a customized super battery, as well as a new adapter, cable, and connector, made using premium, military-grade materials. VOOC's low-voltage charging system ensures safer and efficient charging without damaging the battery and making it perfect to use your phone while charging. It supports both USB Type-C and micro USB interfaces.
The Super VOOC technology has the ability to Flash charge your smartphone even while making phone calls, watching HD videos, or playing games. However, on smartphones using other fast charging technology, the charger reverts to a standard charging speed while using the device, due to the temperature spikes caused by quick charging and screen brightening simultaneously.
For technical details, you can refer to this thread at OPPO Forum.
ALSO READ: Oppo N1 Smartphone Launched in India for Rs. 39,999