Oppo, an unfamiliar and new mobile brand for Indians has today launched their flagship smartphone Oppo N1 in India at an event in New Delhi. The N1 was initially announced in September 2013 and now Oppo has managed to launch the device in India within a short period of time. As N1 tagline says 'Return to Innovation', the company has surely focused on innovation as N1 is the world's first smartphone to feature a rotating camera that serves as a common sensor for the rear and front facing shots. Best for taking best selfies indeed!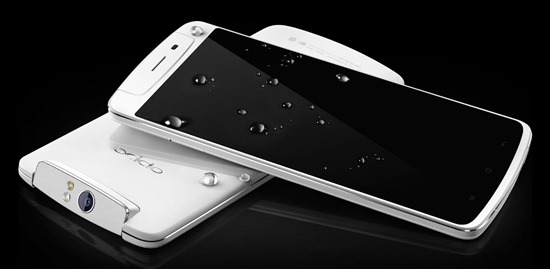 The Oppo N1 is a large and beautiful smartphone featuring a 5.9-inch Full HD IPS display at 377 PPI, powered by a 1.7 GHz Snapdragon 600 Quad Core processor, 2GB RAM, 13 MP swivel camera with dual-mode LED flash and a battery capacity of 3610 mAh. N1's interesting part is its outstanding camera that features a 206° rotation, firmly locks in position at any angle and is designed to perfectly withstand 100,000 rotations. The device packs a full metal aluminum alloy frame and is fenced by two finely cut chamfered edges that showcases its elegance. It also sports 'O-Touch', a touch panel on rear side for one handed usage.
Moreover, N1 is based on the Android Open Source Project, CyanogenMod. The Color OS based on Android 4.2 comes pre-installed with it and also an unlocked bootloader, letting you install your favourite custom ROMs with ease.
As the device was launched back in Sep, the hardware is quite outdated comparing with the current line-up but still Oppo decided to launch N1 in India at a whopping price of Rs. 39,999 which doesn't sounds a wise decision. Let's see how well Oppo turns out here!