Apple has finally released the new and latest version of OS X "LION" for its Macs line-up. OS X Lion (10.7) is a major upgrade with over 250 new features that brings a completely new and amazing experience to Mac. Upgrade for $29.99 only, OS X Lion is exclusively available from the Mac App Store and the upgrade has a size of 3.49 GB.

OS X Lion is the next major release of OS X, the world's most advanced desktop operating system. It includes over 250 new features that will transform how you interact with your Mac.  Tap, swipe, and scroll your way through your apps using fluid Multi-Touch gestures that make everything you do feel more natural and direct. Full-screen apps take advantage of every pixel of your display — perfect for reading email, surfing the web, or browsing photos. Launchpad gives you instant access to all the apps on your Mac in a stunning new layout where you can quickly find any app and open it with a single click. And Mission Control brings together Exposé, full-screen apps, Dashboard, and Spaces in one unified experience. With a gesture, your desktop zooms out, displaying a bird's-eye view of everything running on your Mac and making it easy to navigate anywhere with a click.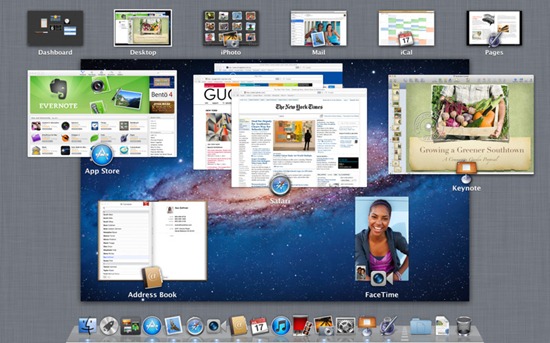 Major New Features in Lion include:
Multi-Touch gestures
Full-screen apps
Mission Control
Launchpad
New Mail
Additional new features in Lion include:
Resume, which conveniently brings your apps back exactly how you left them when you restart your Mac or quit and relaunch an app;
Auto Save, which automatically and continuously saves your documents as you work;
Versions, which automatically records the history of your document as you create it, and gives you an easy way to browse, revert and even copy and paste from previous versions; and
AirDrop, which finds nearby Macs and automatically sets up a peer-to-peer wireless connection to make transferring files quick and easy.
>> See complete list of "250 New Features"
Requirements: Mac OS X 10.6.6 Snow Leopard or later
Users who do not have broadband access at home, work or school can download Lion at Apple retail stores and later this August, Lion will be made available on a USB thumb drive through the Apple Store® (www.apple.com) for $69 (US). Mac OS X Lion Server requires Lion and is available from the Mac App Store for $49.99 (US).

The OS X Lion Up-to-Date upgrade will be available through the Mac App Store at no additional charge to all customers who purchased a qualifying new Mac system from Apple or an Apple Authorized Reseller on or after June 6, 2011.
Download OS X Lion [iTunes Link]
Source: Apple PR