Panda is offering a Free 90 days Trial of Panda Antivirus Pro 2010 on its 20th anniversary, as an exclusive offer for Microsoft users but you can also grab it.
Panda Antivirus Pro 2010 is the easiest-to-use and most intuitive protection for your computer. Just install it and forget about viruses, spyware, rootkits, hackers, online fraud and identity theft. Chat, share photos and videos, bank and buy online, read your favorite blogs or simply surf the Web, with complete peace of mind.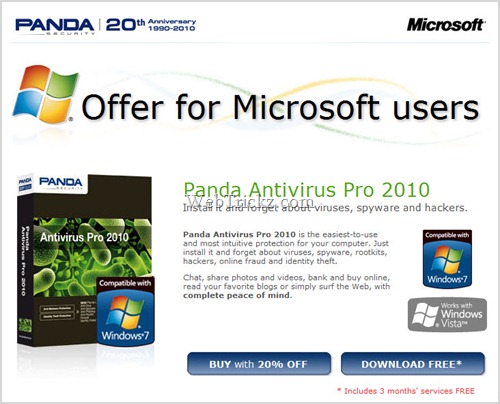 To get a free license, visit this promotion page and click the 'Download Free' button to download Panda Antivirus Pro 2010. You do not need to register or enter any license key because the license is integrated in the installer.
Compatible with – Windows XP/Vista/Windows 7
via  [Megalab.it]