As you may know, Windows uses the AUTORUN.INF file from removable drives in order to know which actions to perform when a new external storage device, such as a USB drive or CD/DVD, is inserted into the PC.
The malware or viruses makes use of it by copying a malicious executable to the drive and modifying the AUTORUN.INF file. When the device is inserted the Autorun feature runs automatically directing Windows to open the malicious file silently.
Don't Worry – Read the Solution below
Panda Research team has come out with a Free and useful tool known as Panda USB Vaccine, which can easily disable the Autorun function both from Microsoft Windows and USB Devices too. This is a really helpful feature as there is no other user friendly and easy way of completely disabling AutoRun on a Windows PC.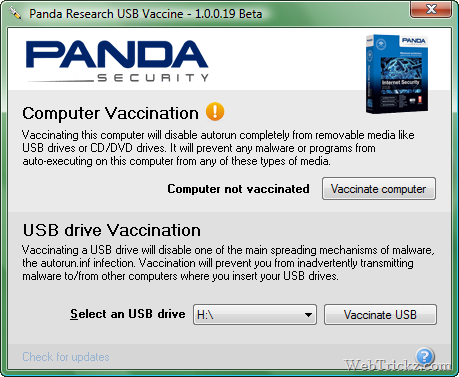 Computer Vaccination
Panda USB Vaccine allows users to vaccinate their PCs in order to disable AutoRun completely so that no program from any USB/CD/DVD drive (regardless of whether they have been previously vaccinated or not) can auto-execute.
USB Vaccination
It can be used on USB drives to disable its AUTORUN.INF file in order to prevent malware infections from spreading automatically. It does this by permanently blocking any innocuous AUTORUN.INF file, preventing it from being read, created, deleted or modified.
Once applied it effectively disables Windows from automatically executing any malicious file that might be stored in that USB drive. Panda USB Vaccine currently only works on FAT & FAT32 USB drives.
Note: USB drives that have been vaccinated cannot be reversed back except when formatted.
Download Panda USB Vaccine Free  (379 KB)
You may also like this: Download Free USB Firewall to protect your computer from infected Pen Drives