Reliance has introduced a new and convenient service 'Instant Pay' which allows Postpaid mobile users to pay there bills online in a simple and fast way. This service does not requires any registration.
To pay bills online, just visit www.rcom.co.in and click on Instant Pay option from right side of webpage. Enter your Reliance Postpaid Mobile No. along with an email address. Confirm your details and click continue. Enter the Payment amount and chose your desired Payment mode. i.e. Credit Card or Net Banking. Make the payment!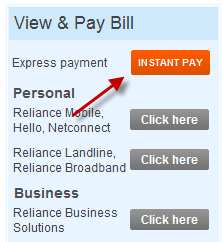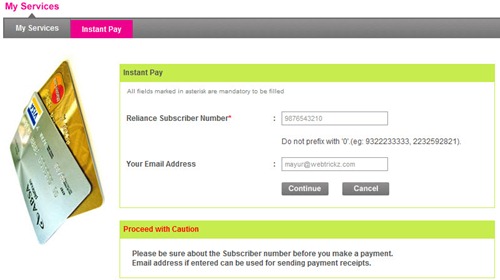 To check your Postpaid bill, dial *222 and follow the voice prompts. You can also check your bill amount by SMS. Just type BILLED and send to 51234.
It didn't took more than 2mins to make the payment. One can also print, save or email the payment receipt. The payment receipt will also arrive at your email as a PDF file after you've paid the bill. You'll get a SMS on your mobile after a successful payment.