Recently, PayPal introduced the Auto-withdrawal option for Indian users to comply with RBI guidelines. There is no fees for using auto-withdrawal but most users were confused about the Rs. 50 fees as PayPal didn't mentioned whether it'd impose such fees or not when making small amount withdrawals. Certainly, Rs. 50 fee is not a big deal but it's a concern for users who often receive funds lesser than Rs. 7000 and are charged 50 INR every time they withdraw or auto-withdrawal carries any transaction of Rs. 6,999.99 INR or less. Fortunately, you don't need to worry about the fee structure anymore!
PayPal has now Removed all fees on withdrawals for India, means now there is NO withdrawal fees charged when you transfer funds to your bank account even if the net amount is Rs. 100. PayPal hasn't made any official announcement about this yet but you can see it right now in your PayPal account. Check the below screenshot:

Additionally, I noted that PayPal is considering to deliver a Demand Draft to your postal address if the bank account details provided by you are not correct. However, I'm NOT sure on this because on 'Review withdrawal of funds' page, PayPal stated that if the information is not correct then they will return the amount back to PayPal and a return fee of Rs. 250 will be charged. So, please don't risk on that.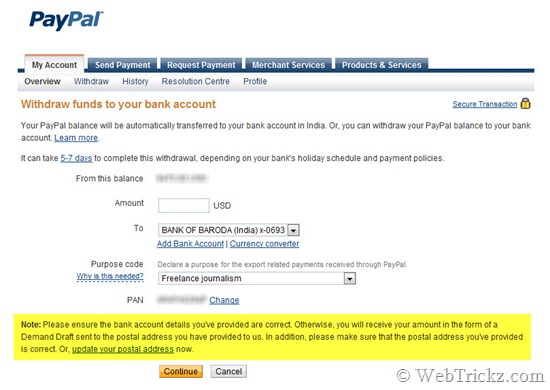 Are you pleased to see PayPal waived off the withdrawal charges? 🙂