If you're seeing 'Autoplay' option in right click menu of drive partitions, temp2.exe error message, and presence of other unknown files like temp1.exe, copy.exe, host.exe, etc. then it's sure that your Windows is infected with Perlovga Trojan (Worm.Win32.Perlovga.a)
PRT (Perlovga Removal Tool) is a small & portable tool (from developers of RRT) which detects and removes all traces of the Perlovga virus from your system, including floppy disks and USB flash disks (must be write enabled during the scan process).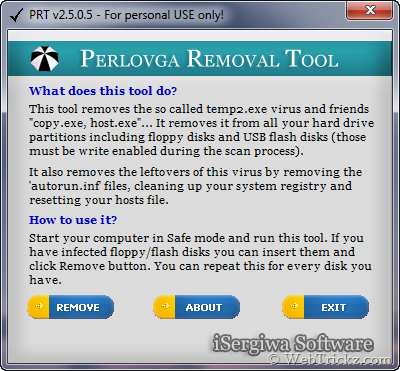 It also removes the leftovers of this virus by removing the 'autorun.inf' files, cleaning up you system registry and resetting your HOSTS file.
How to use it – Start your computer in Safe mode and run this tool. If you have infected floppy/flash disks you can insert them and click start.
Note – Before running this tool, it's recommend to disable any other security solution you are running such as Antivirus, Firewall, etc.
Supports: Windows XP, Windows Vista, Windows 7
Download PRT  (33KB)