Personas is a free extension for Firefox that adds lightweight theming to your browser. It's an experiment in personalizing. Personas are lightweight, easy-to-install, and easy-to-
change "skins" for your Firefox web browser.
It adds a huge collection of awesome themes to your Firefox browser which are very simple to use.
Click the screenshot below to view it in full size.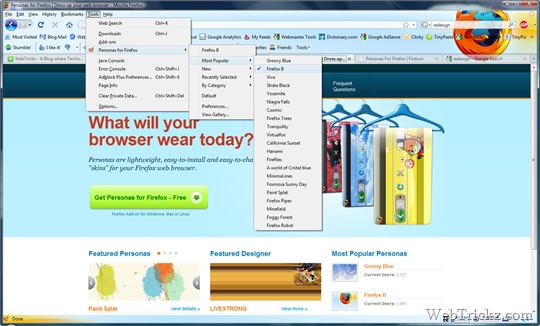 Key Features:
You can select a Persona from the dynamic menus and see results instantly without having to discover, select, download, or install a separate bit of software or code.
Personas can be added, removed, or updated by their designers at any time, without requiring a software update.
How to use Personas?
Click on the fox mask in the lower-left corner of your Firefox browser.
Next, select a Persona from the list, or check out the Personas gallery.
You can change your persona as much as you like! Choose a new one from the list or create your own.