Many of our readers might be using Google Reader to read the blog feeds. But it has a drawback that we have to open each feed we like and then share them one by one.
So here is a nice user script which lets you to Mark many feeds together as read, unread, star or share them. This will save your time in sharing your favorite feeds. This script uses Greasemonkey add-on to work which you can install here.
Power Google Reader is a powerful script to enhance the Google Reader Experience by adding new features. You can see the new features added in Google Reader below:
1)  The script adds a checkbox before each post (in list view). Thus one can mark and select posts which are needed.

2)  The selected posts can be marked as read, starred, shared, or opened together. Also, all the posts can be selected/unselected together for easy usage.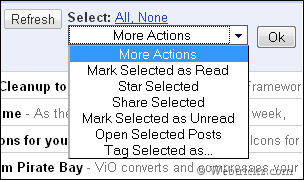 3)  Just in case you have a long list of posts pending to be read, then there is a handy "M" button which can be clicked to mark all posts as read till that post.

Do make sure that you view the feeds in List form. Then check the feeds which you want to read, star, share or unread and click the Ok button.
Thanks to Pratyush Mittal for making out this wonderful script which can easier our tasks.