Pre-order Office 2010, Released to Manufacturing (RTM)

Microsoft has finally reached the release-to-manufacturing (RTM) milestone for Office 2010, SharePoint 2010, Visio 2010 and Project 2010! The public beta of Office 2010 released back in November, 2009 has been downloaded by more than 7.5 million people according to MS.
RTM is the final engineering milestone of a product release and our engineering team has poured their heart and soul into reaching this milestone. It is also an appropriate time to re-emphasize our sincere gratitude to the more than 5,000 organizations and partners who have worked with us on rapid deployment and testing of the products.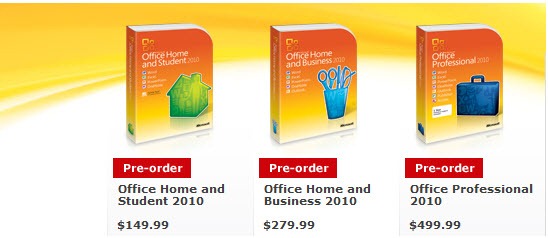 Volume License customers with active Software Assurance (SA) on these products will be the first to receive Office 2010 products starting April 27. Customers without SA will be able to purchase the new products through Volume Licensing starting May 1.
Microsoft Office 2010 will be officially launched to business customers on May 12, in a virtual launch event. You can catch the event live @ http://www.the2010event.com.
Office 2010 will first become available in retail stores in June in the US.
You can pre-order the retail versions of Office 2010 now, to receive Office when it becomes available. Pre-order at http://store.microsoft.com/OfficePreorder
Credit: Office 2010 Engineering Blog