Recently, Google announced that they are updating Terms of Service starting November 11, 2013. Out of three changes mentioned, one might bother you as Google may show your name and profile photo in their products (including in reviews, advertising and other commercial contexts). The name and photo shown in shared endorsements are those you have chosen on Google+. Fortunately, Google provides you control over the use of your profile name and photo but that only applies to shared endorsements in ads.
An example showing a shared endorsement displayed in an ad: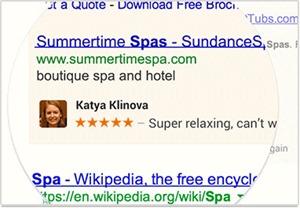 To Stop Google from displaying your profile within ads, visit the Shared Endorsements setting webpage. Scroll down to the bottom and uncheck the option that says "Based upon my activity, Google may show my name and profile photo in shared endorsements that appear in ads." and hit Save.

Note: This setting doesn't change whether your profile name or photo may be used in other places such as Google Play, Maps, Search, etc.
For users under 18, their actions won't appear in shared endorsements in ads and certain other contexts but they may see shared endorsements from others.
Those interested can read the updated 'TOS' (effective Nov 11, 2013) in detail here.