Conficker, also known as Downup, Downadup and Kido, is a computer worm targeting the Microsoft Windows operating system that was first detected in October 2008. It has been predicted to be the largest threat outbreak in several years expected to reach over 10 million desktops worldwide.
How does it Spread ?
If your computer is up-to-date with the latest security updates and your antivirus software is also up-to-date, you probably don't have the Conficker worm.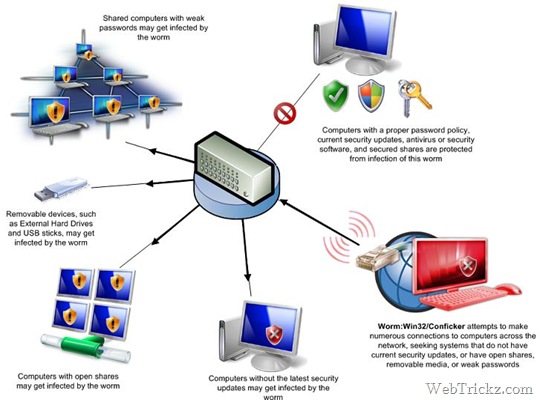 Win32/Conficker might spread through file sharing and via removable drives, such as USB drives (also known as pen drives). The worm adds a file to the removable drive so that when the drive is used, the AutoPlay dialog box will show one additional option.
How to Check if you are infected with Conficker
Use Conficker Eye Chart
Important services are disabled on your computer.
Unable to access windows updates and security sites.
How to remove the Conficker worm?
If your computer is infected with the Conficker worm, you may be unable to download certain security products like Microsoft Malicious Software Removal Tool. You may be unable to access certain Web sites, such as Microsoft Update and any Security sites related to Antivirus, protection, etc.
In this condition you can use the Free Conficker tools listed below to remove it:
Kaspersky
ESET
AhnLab
McAfee
Hope these measures and removal tools, help you in kicking out the deadly W32/Conficker.worm from your system.