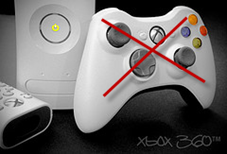 Microsoft's new announcement at E3, comes with a new era and revolutionary way change in gaming world. Project Natal is going to change the games the way you play today forever.
This project lets you play games on XBOX 360 using motion sensor technology without using any controllers or remote controls. Games are played using Full body motion controller and Project Natal (full body LIVE sensing).
It lets you take full control of the games by simply moving around, jumping, punching and kicking or whatever you feel like doing. It will detect almost anything you do!
Watch the demo video below to know about this new technology:
Source: Redmond Pie