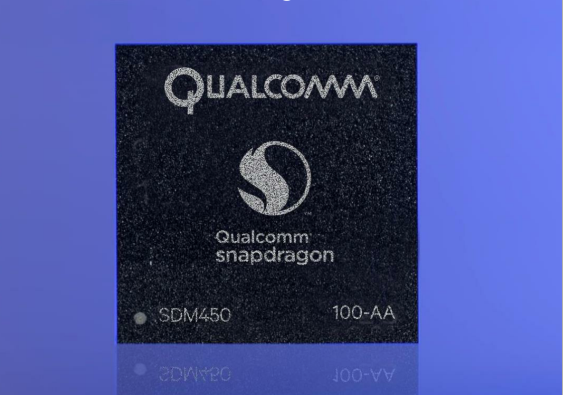 At the Mobile World Congress in Shanghai, Qualcomm has introduced its latest mainstream processor in the mid-range Snapdragon 400 SoC series – the Snapdragon 450. Qualcomm's Snapdragon 450 Mobile Platform is the successor to last year's Snapdragon 435 that powers several low mid-range Android phones such as the Redmi 4, OPPO A57, ZTE Blade V8 Mini, and likes. Moving from 28nm LP, the Snapdragon 450 is the first Soc in 400 series that uses 14nm FinFET process, earlier seen in mainstream SoCs like Snapdragon 625. As compared to SD435, the latest 450 chip promises significant improvements in graphics and compute performance, battery life, imaging, and LTE connectivity. Here's a breakdown of key improvements compared to its predecessor.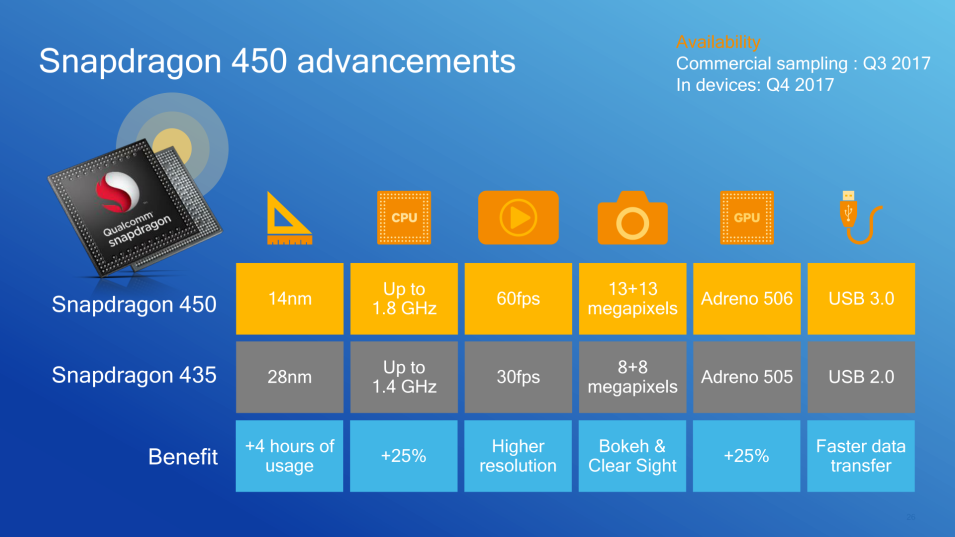 Improved CPU and GPU: Featuring the same Octa-core ARM Cortex A53 cores as seen on Snapdragon 435, the maximum clock speed has been bumped from 1.4GHz to 1.8GHz, thanks to the 14nm process. The GPU has also seen an upgrade in the form of Adreno 506 from Adreno 505. Both these result in a 25 percent increase in compute performance as well as graphics performance.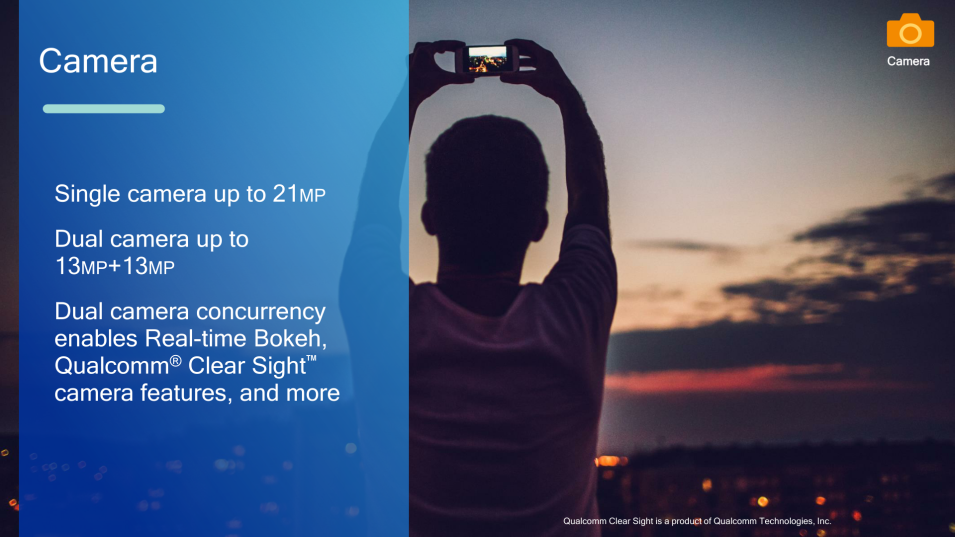 Enhanced Dual Camera support with Live Bokeh: Similar to its predecessor, the Snapdragon 450 supports a single camera up to 21MP. The Dual camera setup can now handle dual 13MP+13MP cameras as compared to 8MP+8MP on SD435. With more powerful dual cameras support, it's the first to support real-time bokeh effects which are a big trend these days. Additionally, there is hybrid autofocus, Qualcomm Clear Sight camera features, slow-motion capture, and 1080p video recording and playback are now supported at 60fps as opposed to the 30fps limit earlier.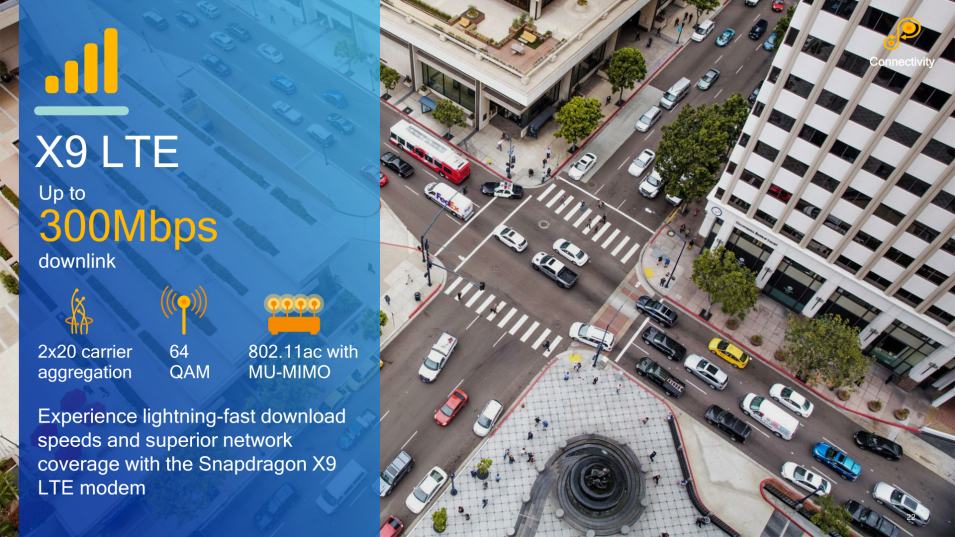 Better Connectivity, USB, and Multimedia: The Snapdragon X9 LTE modem utilizes 2x20MHz carrier aggregation in both downlink and uplink for maximum speeds of 300Mbps and 150Mbps respectively. 802.11ac with MU-MIMO support is also there. The USB controller has also been upgraded from USB 2.0 to USB 3.0 to allow faster data transfer speeds. Similar to SD435, the Snapdragon 450 supports Qualcomm QuickCharge 3.0 that can charge a smartphone from 0 to 80 percent in about 35 minutes. The Snapdragon 450 also supports 1920 x 1200 Full HD displays and retains the Hexagon DSP (found in 435) that is now more power-efficient.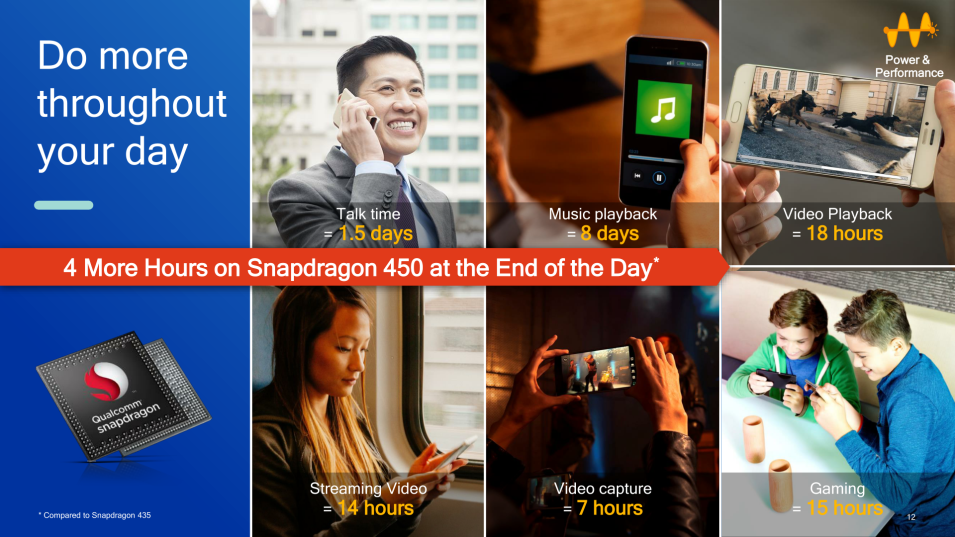 Increased Battery Life: Qualcomm claims that Snapdragon 450 powered phones will deliver 4 hours of additional battery life as compared to Snapdragon 835. If that happens, then it's really a big feat considering users with budget phones mainly emphasize good battery life. It's also said that there will be up to 30 percent reduced power consumption while gaming that will help users stay connected for much longer.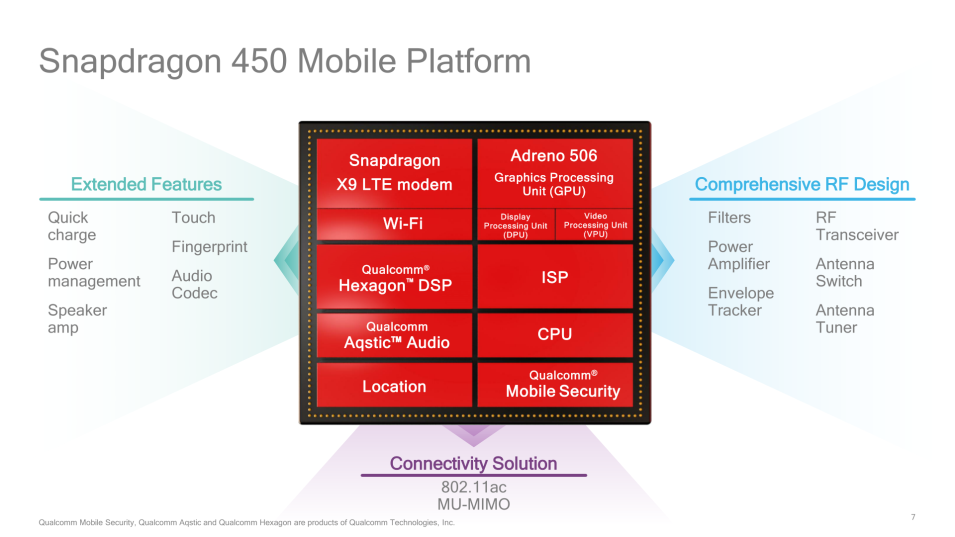 Besides the above improvements, the Snapdragon 450 also supports Iris Scanning aka Eye-based authentication which is introduced for the first time in the 400 tier. That said, it's really interesting to see Qualcomm introduce a much more powerful and energy-efficient SoC to its 400 series that caters to mid-range smartphones and tablets. The Snapdragon 450 borrows certain aspects from its upper mid-range 14nm Snapdragon 625 SoC, making it a really favorable choice for budget handset manufacturers. We really look forward to trying SD450 powered phones when it arrives. The company will begin commercial sampling in Q3 2017, and the Snapdragon 450 chipset is expected to be available on consumer devices by the end of this year.