Quick PDF Tools is a free PDF utility for Windows for editing and managing PDFs. It lets you convert images to PDF, edit PDF properties, add and remove open passwords, merge PDFs together, edit the initial view for PDFs, remove all bookmarks from PDFs and much more. It can be easily accessed from the Windows Explorer shell menu.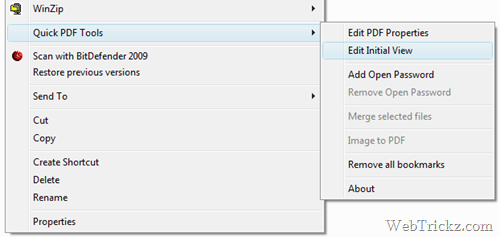 Main Features:
Edit the Title, Author, Subject and Keywords property fields of single or multiple PDFs at the same time.
Edit the initial view for PDFs on your desktop without opening them.
Merge all selected PDFs together effortlessly.
Convert images to PDFs.
Add and remove open passwords on PDF documents.
Remove all bookmarks in a PDF with one click.
Extremely easy-to-use and quick to load.
Download Quick PDF Tools  (953 KB)