Windows 8 features a modern UI aka Metro style interface including the desktop view. Surprisingly, one of the most basic system power options is quite tough to reach in Windows 8. This applies to the Shutdown, Restart, Sleep, and Lock button which are accessible only after multiple clicks while using the Metro interface. The situation remains equivalent in the basic desktop mode as well because the traditional Start Menu isn't anymore in Windows 8, which offered quick access to these power buttons. The much useful 'Log Off' option has also been dropped in the RTM version and there seems no quick way to Log off Windows 8. Well, there is a nifty solution to this hindrance.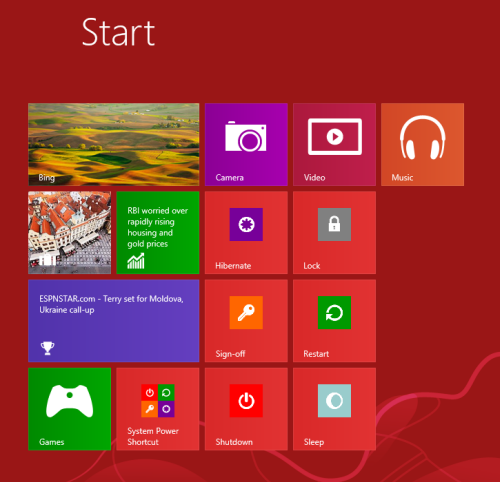 Windows 8 System Power Application is a handy app, designed by Jayson Ragasa. The app adds shortcuts for Shutdown, Restart, Sign-off, Sleep, Lock, and Hibernate in the form of cool tiles on your Metro screen. It also adds a 'System Power' tile that launches as a separate GUI app with all system power shortcuts. You can easily delay the shutdown by a few seconds or set a defined time for your computer shutdown. (Press ESC to close the menu.)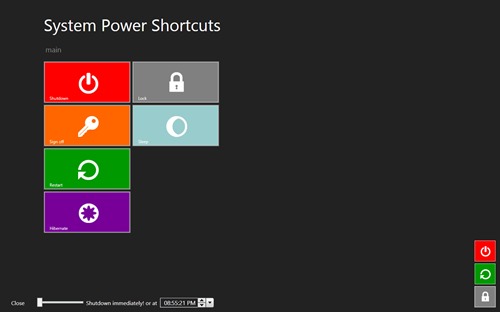 A Quicker version of System Power tools is also available. Its menu features a different interface, offering quick access to power shortcuts as shown below.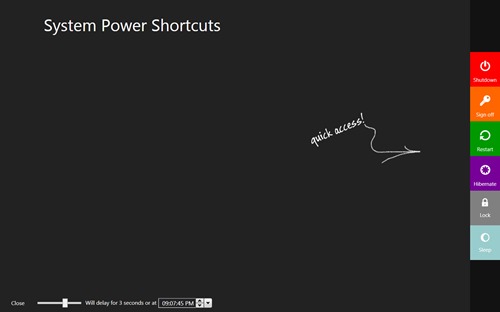 Download Windows 8 – System Power Shortcuts   via [XDA]