There are millions of fan pages on the largest social networking site Facebook, related to Sports, Music, Movies, Technology, News, Artists, Brands, Communities, and a lot more. These days almost everyone is on Facebook due to some or other activity and undoubtedly a majority of Facebook users tend to like a lot of pages, which could range from hundreds to thousands over a certain span of time. Apparently, the content from liked pages appears in your news feed which could possibly clutter and hinder your Facebook experience.

To get rid of unwanted and inactive pages on Facebook, you can dislike the desired ones manually by visiting facebook.com/search/me/pages-liked (Open Graph). However, if you have a huge number of liked pages and want to manage them, then try "manageyourlikes.com", a new web service that offers a feasible and efficient solution to perform this task. This service accesses your profile and analyses it for Likes info and lists them in a clean way. It displays liked Facebook pages along with the title, page type, likes, and one-click quick option to 'Unlike' them. Other features include: Search option, filter pages by type, Order pages by: Date, Alphabet, Likes, and Last activity. With Last activity, you can easily track the list of inactive pages that haven't been updated since years and hence unlike them.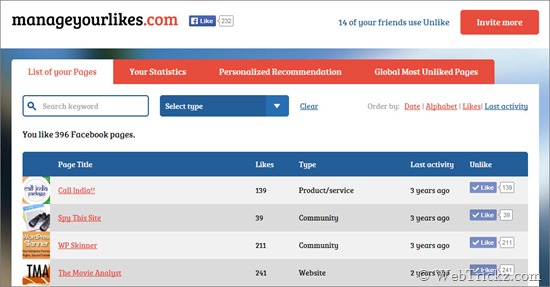 Moreover, the tool offers 'Personalized Recommendation' that recommends certain pages that you should Like and Unlike. Using this useful service, we were able to dislike 100+ pages that weren't interesting anymore or were forced to be like sometime in the past! 🙂
Do give it a tryout! [Manage your likes]
Update: The above tool seems to be discontinued.