CamStudio is a Free software which is able to record all screen and audio activity on your computer and create industry-standard AVI video files and using its built-in SWF Producer can turn those AVIs into lean, mean, bandwidth-friendly Streaming Flash videos (SWFs)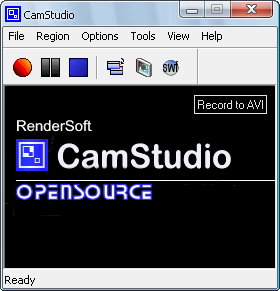 How you can use this software:
You can use it to create demonstration videos for any software program
Creating a set of videos answering your most frequently asked questions?
You can create video tutorials for school or college class
You can use it to record a recurring problem with your computer so you can show technical support people
You can use it to record new tricks and techniques to discover on your blogs.
CamStudio can also add high-quality, anti-aliased (no jagged edges) screen captions to your recordings in seconds. It also comes with its own Lossless Codec that produces crystal clear results with a much smaller filesize compared with other more popular codecs, like Microsoft Video 1.
You have total control over the output of your video: you can choose to use custom cursors, to record the whole screen or just a section of it and can reduce or increase the quality of the recording depending on if you want smaller videos (for emailing to people, for instance) or you can have "best quality" ones for burning onto CD/DVD.