One of the native features of Android 4.4 (KitKat) is the ability to record a screen, which lets you capture video recording or a screencast of your device's screen contents. This is really useful for developers to give a demo of their app and create tutorials. The screen recording process on KitKat isn't that easy though, as you need to run the shell commands over ADB which requires Android SDK and a USB connection with PC. By default, the utility selects the device's display resolution in the current orientation, video bitrate of 4Mbps, maximum recording time as 180 seconds (3 minutes), and the video is saved as an MP4 file on the device.
Perhaps, if you want to easily record the video directly on the device without using ADB and computer, then there are several apps on Google Play to perform this task. Though, your device should be rooted before you can use this most convenient solution. One such app is 'Screen Recorder for KitKat', available for free on the Play store and without any limitations.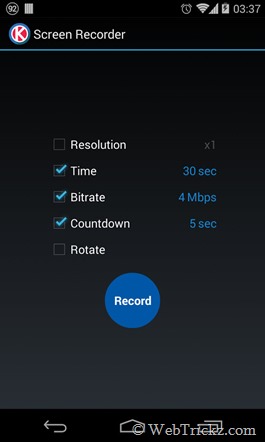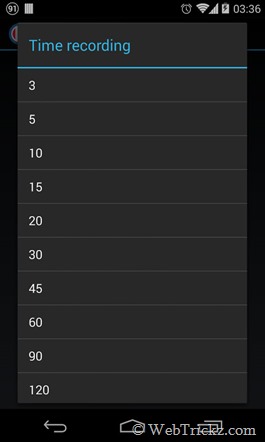 This app executes the screen recording command by itself. It has a clean and nice UI, you can choose the preferred video resolution, recording time, bitrate, and countdown timer. Then simply tap the "Record" button to start the recording. The app shows the recording status in the notification, plays a sound, and vibrates when the recording is started and finished. To record in landscape or portrait mode, rotate this app to landscape for recording landscape app and portrait for portrait app. The recorded video will be saved in /sdcard/ScreenRecorder/.
Note: The app requires root, so grant root access when prompted.
– Download Screen Recorder for KitKat
Those interested in recording the screen without root access on the device, using Android SDK's command-line ADB utility over a USB connection, can follow this guide by HowToGeek.
via  [techtrickz]