In Google Chrome, we can always view all the saved usernames and passwords using the 'Saved Passwords' feature in Options. But it is quite difficult as we can't see all the stored passwords at once and also there is no option to backup the login credentials due to security reasons. Here, ChromePass comes to the rescue and makes this task very easy.
ChromePass is a small, free, and portable program from the NirSoft team. It is a password recovery tool that allows you to view the user names and passwords stored by the Google Chrome web browser. It displays all the data at once and for each password entry, namely: Origin URL, Action URL, User Name Field, Password Field, User Name, Password, and Created Time. It also shows Password strength which is a good feature.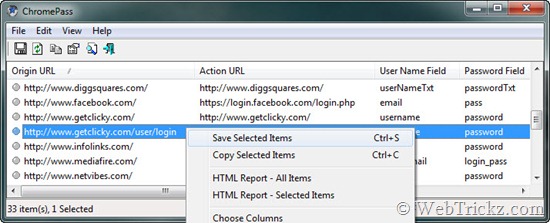 With ChromePass, you can simply select one or more items and then save them as text/HTML/xml file or copy them to the clipboard.
To use it, just download it and run the file ChromePass.exe. Now select the desired entries, right-click and chose the 'Save Selected Items' option to backup the account logins in your preferred format. HTML format is recommended to retain formatting.
via [IntoWindows]