It's easy to find and recover deleted photos or videos on Android that are temporarily moved to the trash or recycle bin for a specific period. When you delete a photo on Android, it usually stays on your phone for 30 days. Meanwhile, photos synced with Google Photos remain in the trash or bin for 60 days after deletion.
The problem arises when the photos get permanently deleted even from the trash directory after 30 days. Don't worry in case you've lost your memorable pictures and want to get them back. In this guide, we will discuss the possible and easy ways to find and retrieve your permanently lost photos.
How to Recover Permanently Deleted Photos without Backup
Perhaps, if you can't find your deleted photos in the 'Recently Deleted' folder then there is no official way to restore those photos. In such a situation, you should try using a third-party app or software. Fortunately, several apps can help you recover photos from an Android phone without backup. iToolab RecoverGo (Android) is one such app that can help you recover permanently deleted photos from the Android gallery.
This tool is suitable for people who have accidentally deleted their photos. What's good is that it doesn't require you to root your device or create a backup. Note that RecoverGo is a paid software and its 1-year license costs $39.95.
Steps to recover permanently deleted photos with Recover Go
Download and install 'RecoverGo' on your Windows PC.
Launch the program and select "Recover deleted data from device".
Connect your Android phone to the computer using a USB cable. Then select the data type you want to scan and click "Scan".
Follow the on-screen instructions to enable USB debugging if it isn't enabled already. After that, RecoverGo will start scanning your device.
After scanning successfully, your deleted photos should appear on the screen. Select the photo(s) and click "Recover" to restore them back to your computer.
That's how you can easily get back your lost photos. The tool lets you recover selected photos if you don't want to recover all of your data. Moreover, RecoverGo (Android) can help you recover deleted contacts, messages, videos, and more than 10 file types.
Recovering permanently deleted photos from Google
As said above, photos in Google Photos stay for 60 days in the trash or bin folder even after being deleted. Whereas items in Google Drive trash are deleted forever after 30 days. Hence, you can see and restore your deleted photos before they are erased forever. However, if your photos have been deleted for more than 60 days, they will no longer remain in the trash folder. In that case, you can ask Google support to restore Google photos deleted from trash.
This is possible as Google maintains custody of the data even after you have deleted your photos. Reportedly, the team can restore photos up to 21 days after their permanent deletion. However, you must have a genuine reason to make such a request or your application will be denied.
To make a file recovery request with Google,
Visit the Google Drive Help webpage and search for "Delete and restore files in Google Drive".
Scroll to the bottom of the page and click the "Contact us" button.
Sign in with your Google account, if required.
On the File Recovery webpage, input your name and give consent to allow Google to attempt to recover your file(s).
Then hit the 'Submit' button.
After receiving your request, Google will try to restore files recently deleted from your Google Drive account. This process can take up to 48 hours and you will be notified about the result via email.
How to Restore Deleted Photos from Trash (Recently Deleted Only)
Suppose you accidentally deleted a folder from your device, whether it contains a PDF, images, or audio. In that case, time plays an essential role in recovery and you should restore the files as soon as possible. Let's see how to do it.
Google Photos
In Google Photos, you can view your deleted contents by checking the trash folder. For this,
Open Google Photos.
Go to the menu and click on 'Trash'.
Select the photos(s) you want to restore, and click "Restore".
Google Drive
If you have accidentally deleted photos from Google Drive, you can still restore them from the trash. To do so, go to Google Drive and open the 'Trash' directory. Then right-click the photo you want to restore and click 'Restore'. You can also select multiple photos and restore them all at once.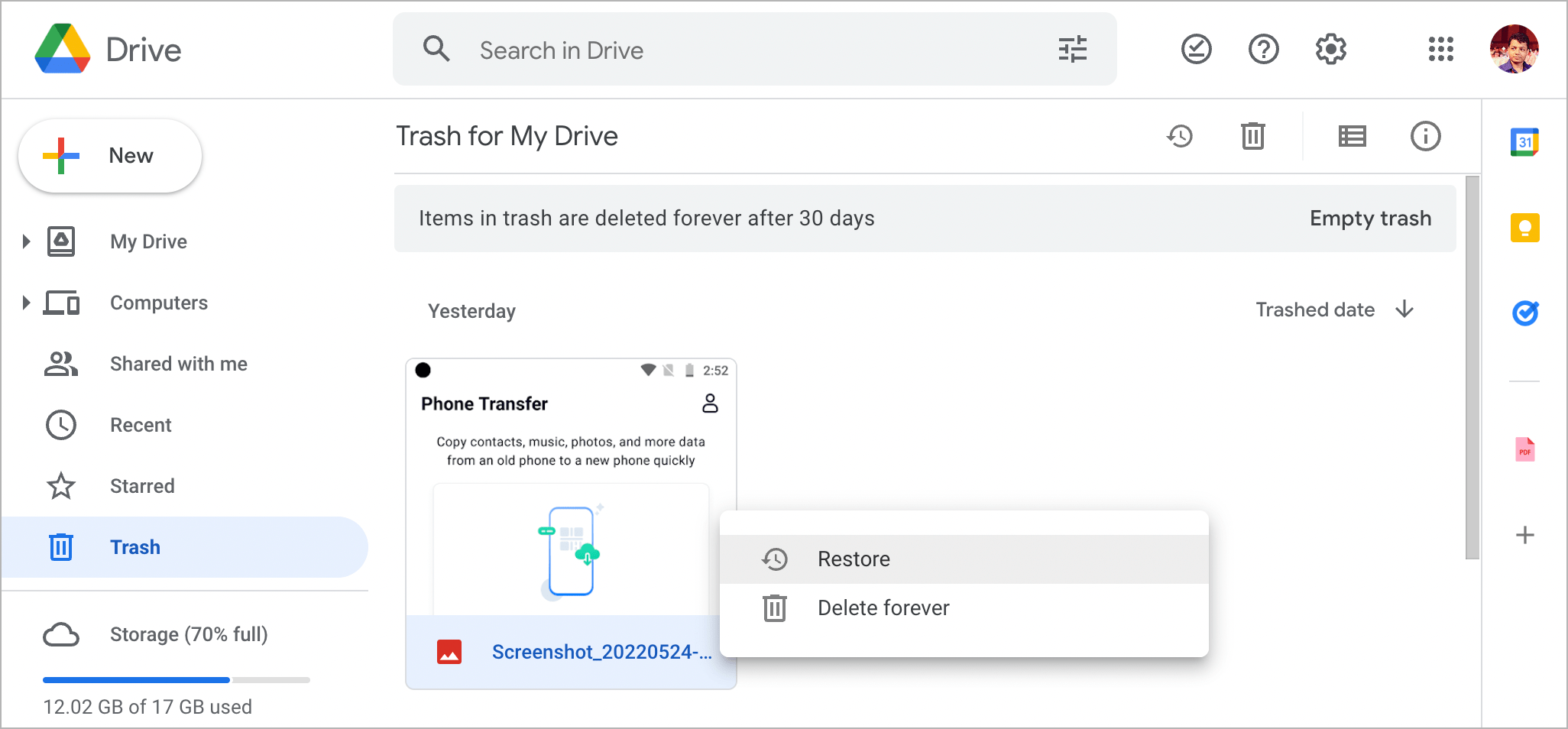 Android Gallery
Follow the steps below to get back deleted photos from the camera roll on Android.
Open the Gallery app.
Go to the 'Trash' folder or look for the 'Recently deleted' album.
Tap and hold the photos you want to recover, then tap Restore.
If prompted, select whether you want to restore the photos to their original location or a new location.
Tap OK to finish.
We hope you found this guide helpful.