There is a good news for Redmi 1S users in India. Xiaomi has just released the much needed update for their entry level smartphone 'Redmi 1S'. The MIUI update v45 (JHCMIBH45.0) stable is a major and significant update for Redmi 1S, as it address several important issues that users have frequently reported with their device. The v45 system update for Redmi 1S is now available over-the-air (OTA) and it is a whopping 515 MB in size. This update fixes various major issues in Redmi 1S such as overheating issue, high RAM consumption, less battery life and performance issues caused during intensive usage. Hugo Barra, the VP of Xiaomi has shared a detailed post on Facebook discussing various issues fixed with this update.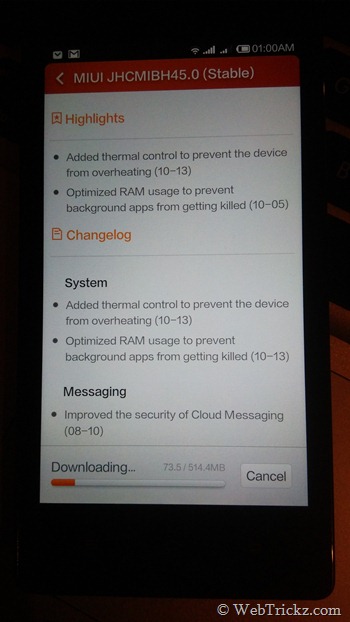 Update Highlights –
Added thermal control to prevent the device from overheating
Optimized RAM usage to prevent background apps from getting killed
Improved the security of Cloud messaging
Issue 1: Heating & Battery life
As reported by many users, the Redmi 1S often gets very hot and sometimes above 45C. To fix this problem, they've improved the thermal control algorithm to better regulate temperature and keep it under 38C in normal usage conditions. In their internal tests, they've found that these changes significantly reduce the device's overall temperature and improves the battery life as well. They're going to continue optimizing temperature control in future builds.
Issue 2: RAM Availability & Management
Redmi 1S comes with 1GB RAM but surprisingly very less free memory is available even with no or few apps running. Certainly, RAM management on Redmi 1S wasn't good causing high memory consumption and sometimes background apps got killed more aggressively than what users would normally expect (for example, music player stopping while playing a 3D game). Xiaomi has looked at this closely and made a few significant improvements in how MIUI manages RAM on a 1GB device, which has resulted in noticeable improvements.
Issue 3: UI Performance
Some users also reported that their devices were suffering from performance issues such as frame rate drops and UI lag. These issues were particularly observed during intensive device usage such as while playing high-end games like Asphalt 8 on Redmi 1S. The majority of these problems were as a result of CPU throttling due to overheating and lack of RAM availability, that have been addressed in above fixes.
Xiaomi will continue to monitor user feedback and make more improvements in future updates. So, make sure to update your device to the latest version now and send your feedback.
Source: Hugo Barra [Facebook]