Xiaomi has been known to squeeze in lots of good specs and offer phones at a throwaway price – oops! but they did not do that with the latest Mi4 which in fact disappointed lots of fans who waited almost 10-12 months for the launch. Xiaomi went to lengths to justify the price but the sales did not rock the charts as they'd have liked to. So to get back into the game of numbers, after all the teasers a week ago, Xiaomi has today launched the Redmi 2, successor to the highly successful Redmi 1S.
The 1s was one of the top and best phones available at its price range, with an 8MP camera that was hard to beat but it was discontinued after Redmi 2 announcement. In addition, Xiaomi has also launched MiPad (NVIDIA Tegra K1 processor, 7.9″ IPS display, 2GB RAM, 16GB Flash (Expandable to 128GB via microSD card), 8MP rear camera). The successor Redmi 2 has some improved specs to its credit with 4G being the highlight. Let's looks at what Redmi 2 which goes on sale from March 24th, offers:

Specs:
Display – 4.7-inch IPS LCD, 720p HD with AGC Dragontrail Glass
Processor – 1.2GHz Quad-core 64-bit Snapdragon 410, Adreno 306 GPU
Memory – 8GB storage (expandable up to 32GB)
RAM – 1GB
OS – MIUI v6 based on Android 4.4.4 KitKat
Battery – 2200mAh – supports Quick charge 1.0, charges 20% faster than 1s
Camera – 8MP rear, 2MP front
Connectivity – Dual 4G SIM (supports 4G and 3G on both SIM card slots)
Colors – White, Pink, Green, Yellow, Black Gray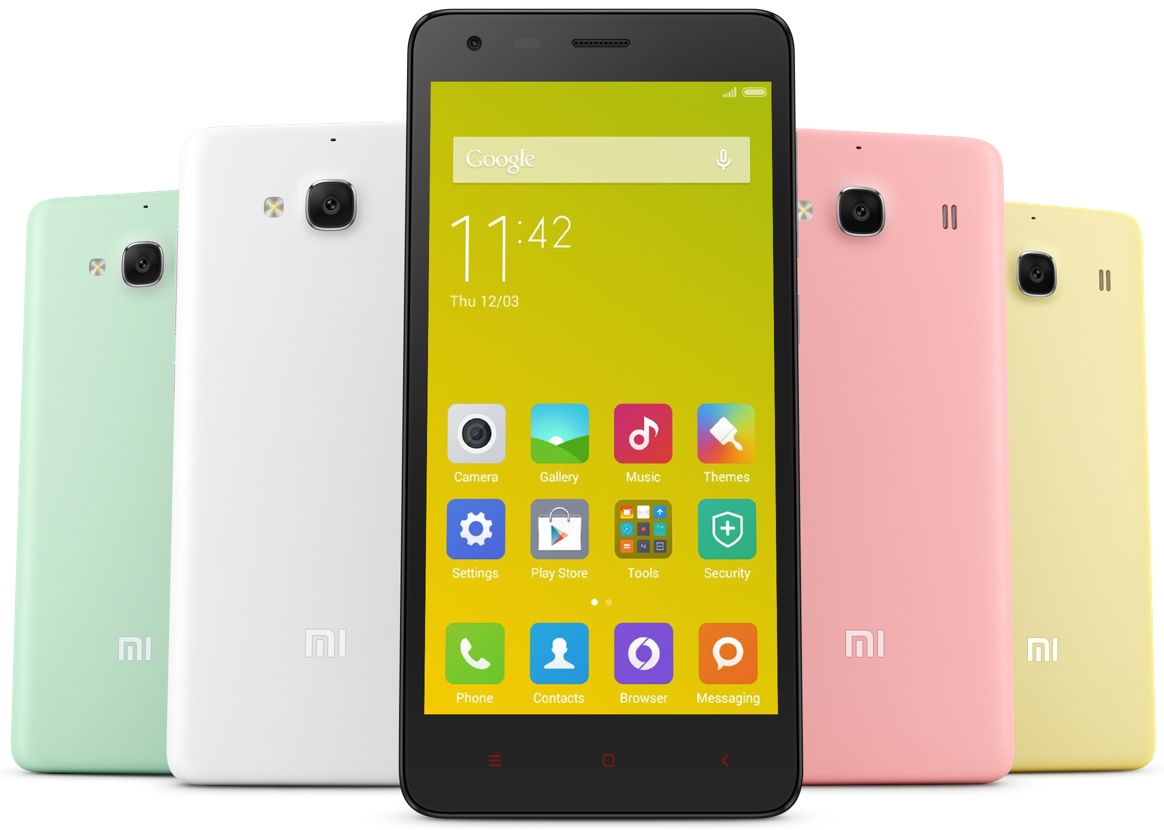 Key Points:
So we see an upgrade to the processor that brings in support for 4G. The battery too has a slight bump up which will be highly appreciated, after all the whining about poor battery life on the Redmi 1S after a period of time. The latest update seems to have improved it though. The front camera too has a slight upgrade in the form of a 2MP camera. However, the 1GB RAM stays the same. While most of us would complain about this one, especially after seeing the poor RAM management in the Redmi 1s, Xiaomi claims that the all-new MIUI v6 should work smoothly and the 1GB will have enough free space to run a few apps and Hugo stated in the launch that the Redmi 2 will offer 50% higher CPU performance compared to Redmi 1S. Moreover, Redmi 2 weighs 133 g (25 grams lesser than Redmi 1s) and is compact in size as well.
The Limited edition of Redmi 2 with 2GB RAM and 16GB internal storage will be available later in limited quantities.
Close Contenders:
With the release of the Redmi 2, the battleground 'entry-level' is now getting busier than ever before! Moto E (2015) was launched two days ago and has already gone on sale and the highly successful Lenovo A6000 will now be the contenders for the Redmi 2 to beat. We have an upcoming article where we put the three head-to-head and see how they match up and who comes off as a winner at the first look, more based on specs, design, and pricing.
Initial thoughts:
When we compare all the three phones, bringing in notions, thoughts, and experiences from earlier usage of Redmi 1s and Lenovo A600, Redmi 2 would be a preferred one merely because of the MIUI v6, stunning camera, and 4G support. Lenovo A6000 is no less of a good device but the Vibe UI has a long way to go (and we've seen it has lots of elements copied over from MIUI!). We hope Xiaomi has gotten rid of the terrible HEATING issues seen in Redmi 1s and also poor RAM management. We will be testing the device in the next few days and if the just stated issues have been catered to, the Redmi 2 at 6999 INR will be a tough one to beat! And just around the corner is the YUREKA at 8,999 INR if you can stretch a little bit, trust us it will be a worthy one!
Availability – The Redmi 2 will be available exclusively on Flipkart, registration for which starts today at 6 PM. The device will go on sale from 24th March onwards.