An Antivirus software is the best protection software to safe guard your PC from spyware, virus, Trojan, malware, etc. But at times we need to remove/uninstall a certain Antivirus installed due to some reasons. We can remove them easily using the Add/Remove Programs option in Windows, but many times it becomes difficult to remove them due to certain errors.
Also some processes are left running which causes your computer to slow down. So I have gathered some of Antivirus Removal Tools to easily remove the Antivirus software from your PC.

Norton Removal Tool
Use the Norton Removal Tool to remove a failed installation or a damaged Norton product. The Norton Removal Tool uninstalls all Norton 2009/2008/2007/2006/2005/2004/2003 products and Norton 360 from computer. Save your Norton Product Key, then download and run the Norton Removal Tool.

AVG Remover
AVG Remover utility removes all parts of AVG installation on your computer, including registry items, installation and user files on your disk, etc. AVG Remover is the least option to be used in case the AVG uninstallation / repair installation process has failed repeatedly.
McAfee Consumer Products Removal Tool
Running McAfee Consumer Product Removal tool (MCPR.exe) removes all 2005, 2006, 2007, and 2008 versions of McAfee consumer products.
Note : McAfee recommends to remove the product from the Remove Programs option in Windows before running the cleanup tool.
Step 1 – Uninstall your McAfee consumer products using Add/Remove Programs in the Windows Control Panel
Step 2 – Download and run MCPR.exe   [ Windows 2000 / XP/ Vista ]

BitDefender Uninstall Tool
This tool will enable users to completely remove Bitdefender antivirus software from their computers. This utility is highly recommended if you use an operating system without the System Restore feature.
Supported versions are: Bitdefender 7.x / Bitdefender 8.x / Bitdefender 9.x / Bitdefender 10 / Bitdefender 11. Download Here
Kaspersky Anti-Virus Remover
If you are having troubles uninstalling Kaspersky products using the standard uninstall method or want to completely uninstall Kaspersky from your computer without leaving traces, Kaspersky Labs provide KAVRemover – A simple to use free utility for complete removal of all Kaspersky Labs products safely.
KavRemover9 supports complete removal of following Kaspersky Products:
Kaspersky Anti-Virus 6.0\7.0\2009
Kaspersky Internet Security 6.0\7.0\2009
Kaspersky Anti-Virus 6.0 for Windows Workstations
Kaspersky Anti-Virus 6.0 for Windows Servers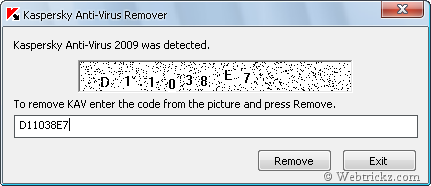 Download KAVremover9 >>
Unzip the zip-achieve, and Launch KAVremover9.exe.
Enter the image code from the picture.
Click Remove button to start the process.