Remove Start button from taskbar with Start Killer

Start Killer is a small utility which removes the Start button from your Windows taskbar. It gives you additional space on taskbar, when you close Start Killer the Start button is restored back.

Though the Start Button is removed, you can still open Start Menu using CTRL+ESC or WIN key. Start Killer sits in system tray. You can remove icon from system tray and use CTRL+ALT+SHIFT+F12 to open settings dialog box.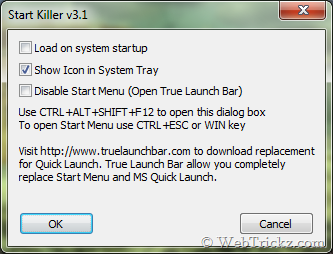 Works on Windows 2000/XP/Vista & 7
Download Start Killer  (189 KB)