iPhone users can find it challenging to restore WhatsApp backup because Google Drive is generally used by Android users, and WhatsApp for iOS only deals with iCloud.
While Android and iOS are two different systems, using the official and conventional methods might cause inconvenience, and the process can be time-consuming with no guaranteed results in hand. Even your data can be at potential risk of loss.
So while technically it is easy and feasible to restore WhatsApp backup from Google Drive on Android devices, you may find yourself clueless when trying to restore WhatsApp backup from Google Drive to iPhone.
So to ease your stress and worries, we will help you find viable solutions to restore WhatsApp backup from Google Drive to iPhones in two effortless and quick ways.
While the easiest method is to use iToolab WatsGo, which doesn't even require you to uninstall your WhatsApp, you will also be in for the official way. So without wasting time, let us check the detailed process and pros and cons of both approaches.
How to Restore WhatsApp Backup from Google Drive to iPhone Without Uninstalling WhatsApp
You can use iToolab WatsGo – WhatsApp transfer tool, to help yourself restore WhatsApp backup from Google Drive to iPhone in a few clicks. Most importantly, the process doesn't even require you to uninstall WhatsApp. Instead, it is a powerful software that helps you transfer WhatsApp or WhatsApp business from Google Drive, iTunes, or iCloud to another iPhone or Android device.
In addition, iToolab WatsGo lets you preview the files before you restore WhatsApp backup or even iTunes backup. The tool is compatible with a wide array of Android and iOS devices and performs to give guaranteed results seamlessly and effortlessly.
Steps to Restore WhatsApp Backup using iToolab WatsGo
Step 1: Select the 'Restore WhatsApp Backup from Google Drive' Option
Download and run iToolab WatsGo to initiate the program. Open the software and select the third option "Restore WhatsApp Backup from Google Drive".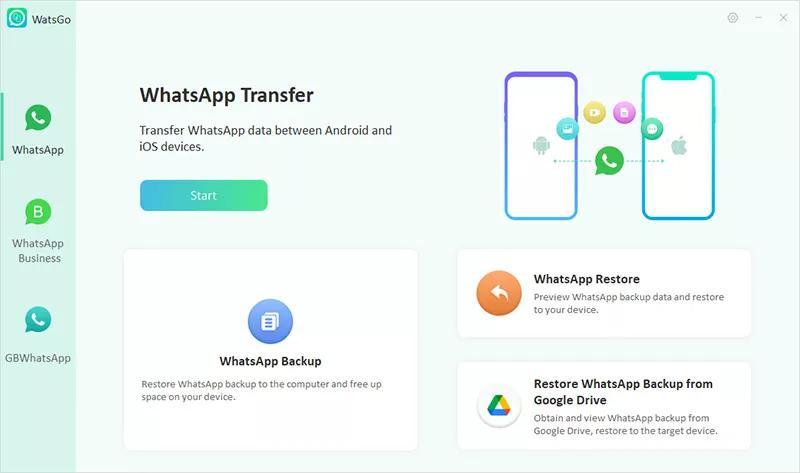 Step 2: Select WhatsApp Backup from Google Drive
Now sign in to your Google account with your email ID or phone number and password, which has the WhatsApp backup data.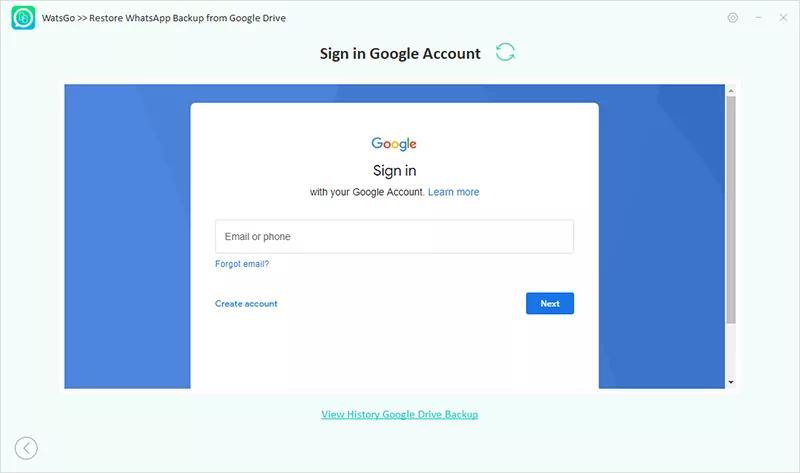 After signing in, you will see a backup list of all the WhatsApp accounts synced to Google Drive. Select the one to download and restore.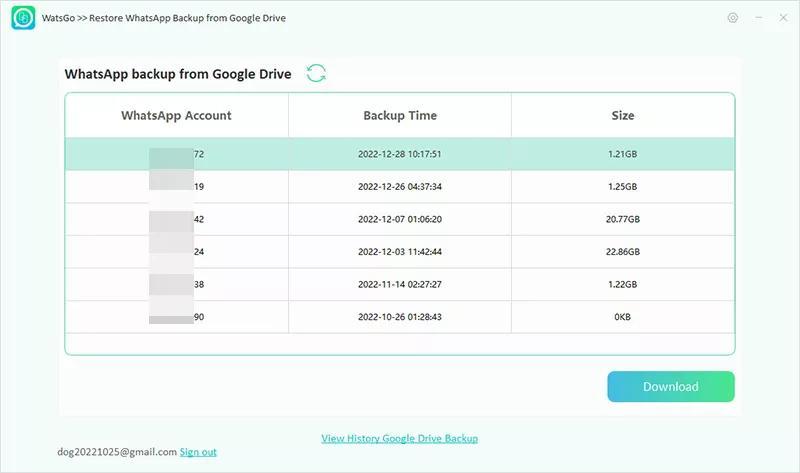 Step 3: Download WhatsApp Backup Data
iToolab WatsGo will now proceed to access WhatsApp backup data from Google Drive. Wait for some time unless the procedure completes and you reach the 'Verify WhatsApp account' process.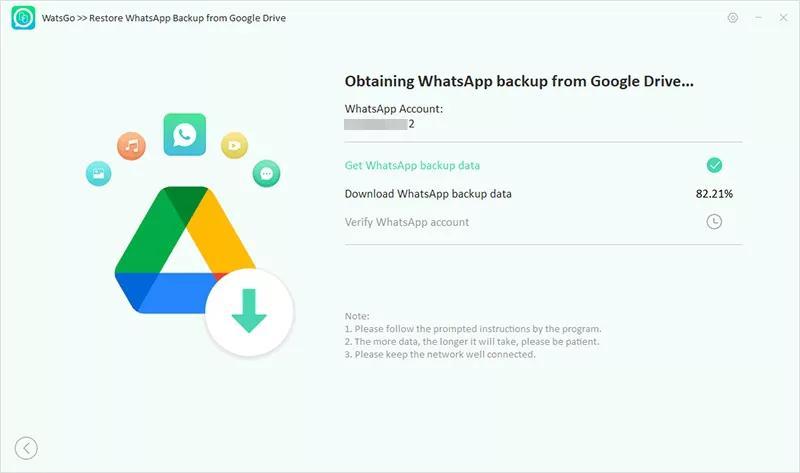 Once there, you will be prompted to enter the 64-digit password (provided you have turned on encrypted backup).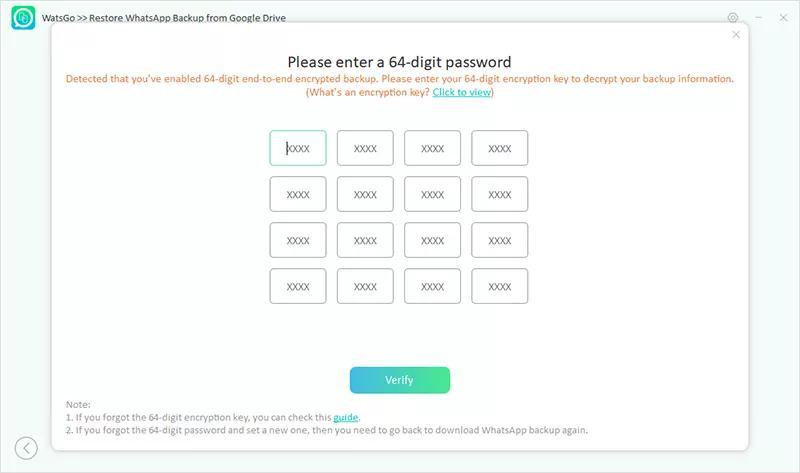 After the verification finishes, the WhatsApp backup will download successfully within no time.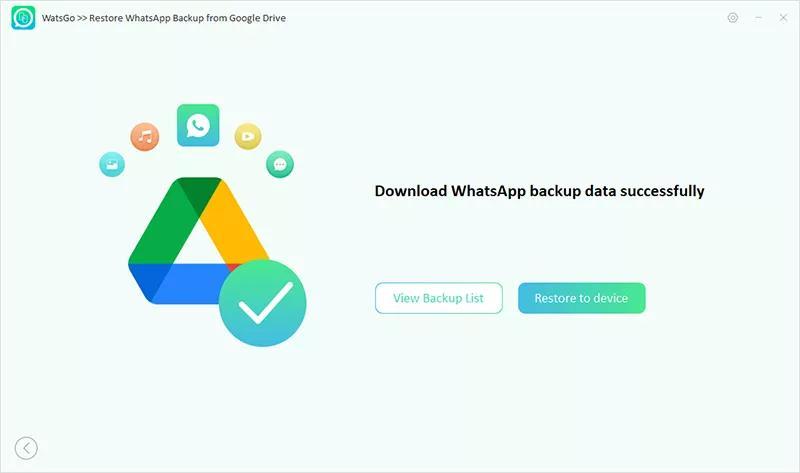 Step 4: Select Restore WhatsApp Backup from Google Drive
First, select the View Backup button to check the backup, and you shall be able to see the downloaded WhatsApp backup from Google Drive.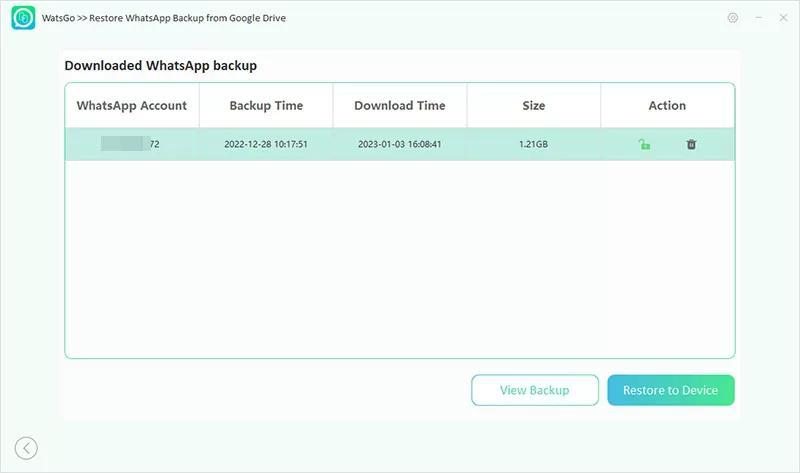 The program will display all the backed-up WhatsApp data in Google Drive after clicking the 'View Backup' button. Click any category from the left side, like text messages or media and documents, and you will find the relevant details on the right. You can restore the data to the device or export it to a PC in bulk.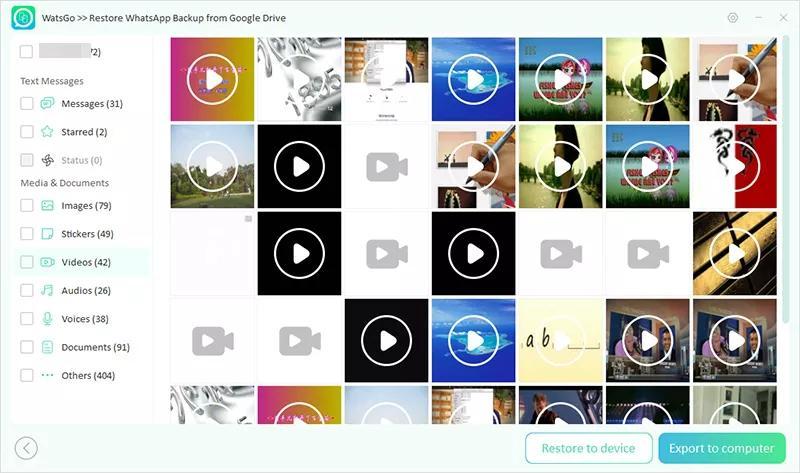 Now, click the Restore to Device button to restore the backup WhatsApp data directly by connecting your iPhone (or any other device) to the PC using a USB cable and selecting the data type to be restored.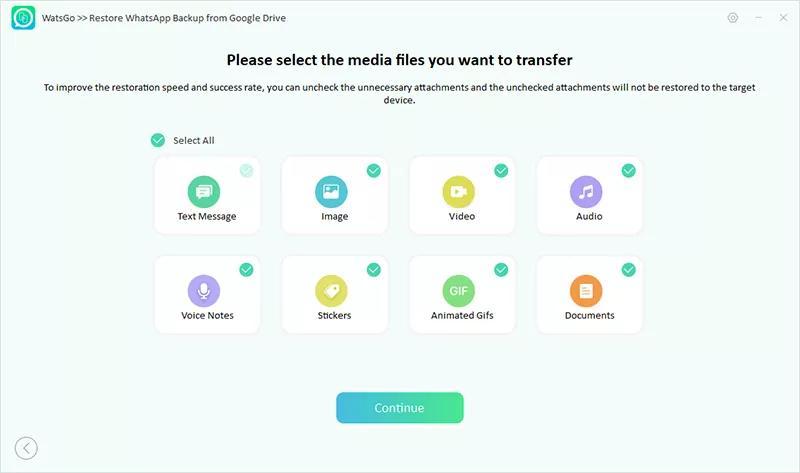 Note: Text messages are transferred by default.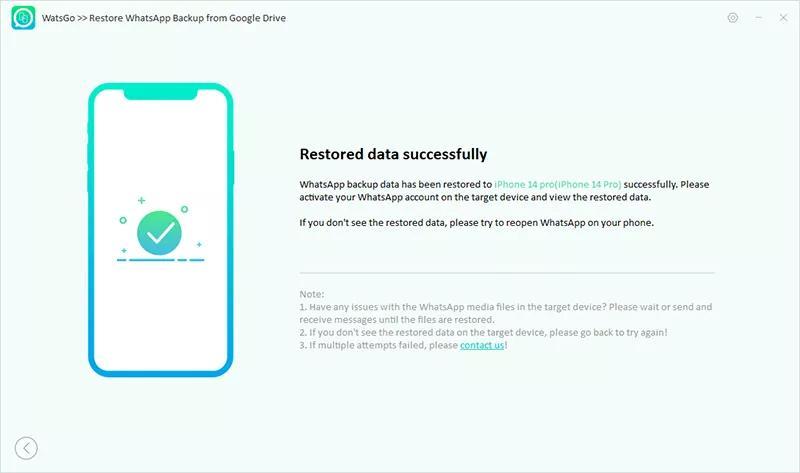 Your WhatsApp backup from Google Drive will restore to your iPhone without taking much time, and you'll get all the chosen data restored successfully. But make sure not to disconnect your iPhone from the computer during the transfer process. Once done, you can disconnect your device.
Pros and Cons of iToolab WatsGo
Pros
Moves data in a single click
No data loss and no jailbreak/root required
Compatible with iOS 16 and Android 13
Secured and multi-directional program
Cons
A Mac version is unavailable
Video Tutorial
How to Restore WhatsApp Backup from Google Drive to iPhone [Official Way]
Suppose you are unable to restore WhatsApp chats from Google Drive backup on your iPhone directly. In that case, you can also try the readily available way of uninstalling and reinstalling WhatsApp to your Android phone to restore and transfer your backup WhatsApp text and media quickly and instantaneously. But before you begin to restore WhatsApp backup and transfer it, ensure your chat is backed up.
WhatsApp Chat Backup and Restore –
Step 1: Open WhatsApp and head to WhatsApp Settings by clicking the 3-dot menu at the upper right corner. Select Chats, and click Chat Backup.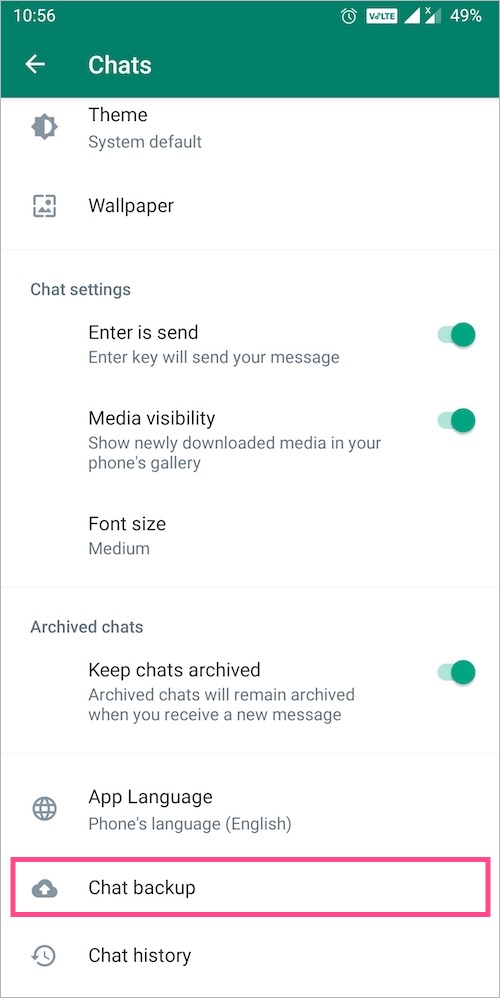 Step 2: Click Back up and choose the Backup to Google Drive option to ensure your WhatsApp backup is up to the minute.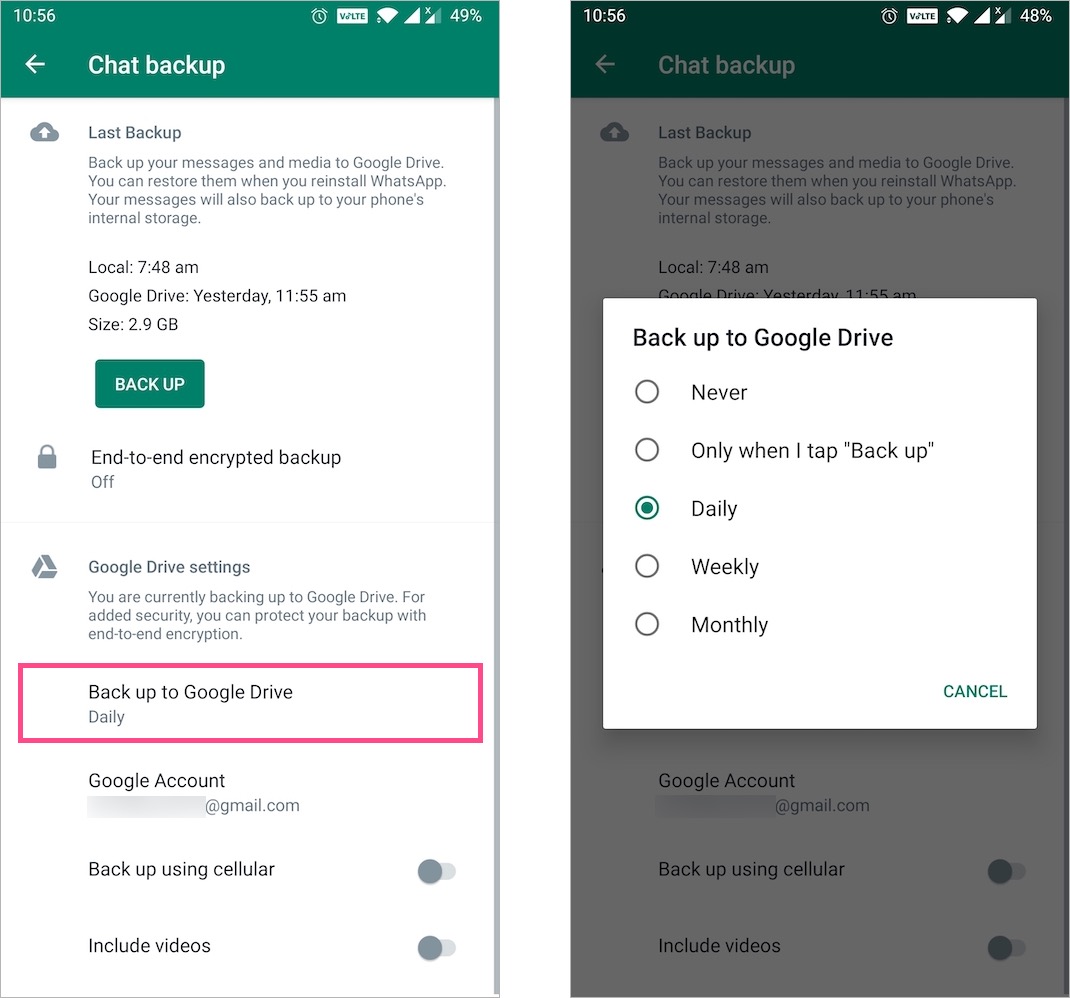 Step 3: After your backup is saved, proceed to uninstall WhatsApp from your device and reinstall it on your Android smartphone.
Step 4: Verify your number and tap Restore when prompted to restore WhatsApp backup from Google Drive. Wait until the process finishes and click Next.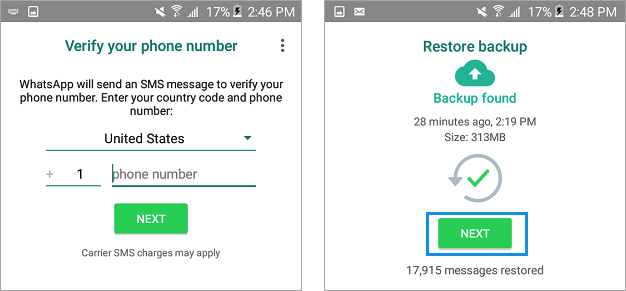 Note: WhatsApp will auto-restore the media files after restoring the texts and chats. Wait until the entire process is complete and all your chosen files are restored completely.
Exporting WhatsApp Chat –
Step 5: Now open WhatsApp on your Android phone and select the chat log you intend to export/transfer.
Step 6: Click Settings and tap More. Then select Export chat and click Email. You can also choose to transfer the media from the conversation attached to the email.
Step 7: Enter the email address to export the WhatsApp chat log and click Send to transfer it.
Step 8: Open the same email client on your iPhone and receive the chat log.
That's it. All your WhatsApp chats and media will transfer to your email inbox, and you can access them from your iPhone anytime.
Pros
Requires no additional software download
The method works even without a PC/laptop
Cons
The process is time-consuming
Involves complicated steps
Cannot import the records into WhatsApp
The Bottom Line
Google Drive is everyone's go-to solution to back up essential data. However, the problem arises when you switch from Android to iPhone and need to restore WhatsApp backup calls. But we have provided you with the most accessible solutions to restore WhatsApp backup from Google Drive to iPhone or iOS devices within no time. So while you may face trouble using the 'official way,' iToolab WatsGo – WhatsApp Transfer, Backup & Restore can save you from the mess from its ease of effortlessness and novice-friendly approach.