Samsung ChatON is a multi-platform messaging service aka instant messenger that offers an efficient medium to stay connected and have better relationships with your buddies or groups. ChatON instant messaging app is available for major mobile platforms like Android, iOS, Blackberry, Windows Phone (Samsung phones), Windows Mobile, and bada smartphones. Back in February, Samsung prominently turned ChatON into a cross-platform app by launching the web-based version of the service. ChatON global mobile communication service is now available in 120 countries in 66 languages.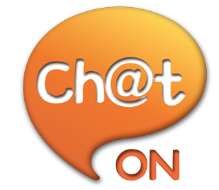 ChatON app by Samsung is absolutely free to use, packs a cool GUI, supports multiple devices and makes conversation between friends way easier. It's quite similar to WhatsApp but unlike Whatsapp, ChatON offers a variety of interesting features without any limitations. Now chat freely with your ChatON buddies, you can even chat with more than 2 buddies simultaneously with the Group Chat option. The seamless multimedia sharing options lets you send pictures, videos, animated message, audio & video recording, contacts, calendars, location, etc. simply in a few taps.
It integrates a large collection of cool smileys/emoticons and icons, now turn a basic chat into a creative and beautiful one! The chat interface can be easily customized as desired like one can switch the background style, bubble style, and font size. Users can invite their buddies to ChatON using their phone number, Samsung ID, or send download link via SMS, Facebook and Twitter. While chatting, you can invite more friends to have a group chat, plus there is a handy option to Backup chat as well. The app supports Push notifications and also Pop-up notifications, which is really impressive.
The latest version of ChatON is updated with advanced features, making it a more powerful and full-featured mobile messaging client. This includes enhanced group chat, user-animated messages, animated emoticons, trunk, buddy interaction, buddies say. The Trunk stores all the content shared by you and makes it quickly accessible at one place. Of all these enhancements, the 2 most impressive are the 'Animation messages' and 'Push-to-Talk' feature.
– Animation message is a built-in smart editor to create animated messages (Scribble) with handwritten messages, texts, photos, background and music. What's cool about it that the animations are presented to the recipient in the same way as drawn by you. Animations created can also be saved for later use. (Deserves a try!)
– Push-to-Talk is another great feature that virtually turns your phone into a Walkie-Talkie. While having a normal chat, just tap the phone button to turn on recording. Then speak your message and as you leave the button, the recording gets instantly pushed to the recipient's device, that he/she can listen right away.
Samsung ChatON New Features –
Enhanced Group Chat – Broadcast messages can be sent to several buddies at once
"Trunk" – ChatON Contents Sharing Box, where you can leave comments and share contents to other sites including Facebook
Animation Message – Create your own animated messages with original drawings, texts, audio content and changing background images
Anicon (Animated Emoticon) – Download various lovely animated emoticons from within the app
Buddies Say – Post comments directly to buddies? profile at any time
Interaction Rank – Check how often you chat with buddies on the progress bar
Micro SNS Community (Social Network Service)
Download ChatON – Android | iOS [Free for all supported devices]