Just yesterday, we bought a brand new GSM version of Galaxy Nexus which is currently the best Android smartphone manufactured by Samsung in co-operation with Google. The Galaxy Nexus (dubbed as Nexus Prime) offers a "pure Android" experience and is the first phone to feature the latest platform Android 4.0, Ice Cream Sandwich. This amazing feature packed phone is a successor to Google's previous flagship phones, the Nexus One and Nexus S. It combines the most advanced software from Google and cutting edge hardware from Samsung. So, let's have a look at the hands-on photos below!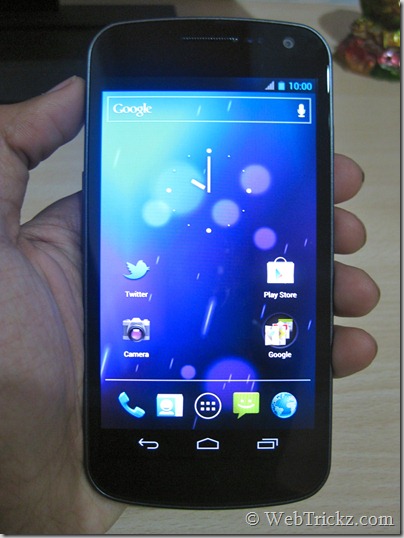 Galaxy NEXUS (GT-I9250) Unboxing Photos –
The Galaxy Nexus is huge! The box measuring 8-inch long itself could scare you out for a moment. FYI, the phone runs on Android 4.0.1 and is powered by a 1.2 GHz Dual Core Processor, boasts a large 4.65" 1280×720 HD Super AMOLED Contour display (curved glass) which looks stunning, 1GB RAM, NFC, Face Unlock, and a lot more.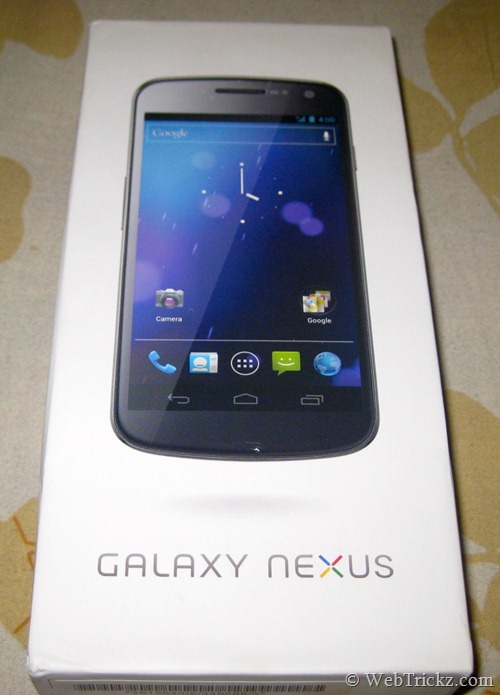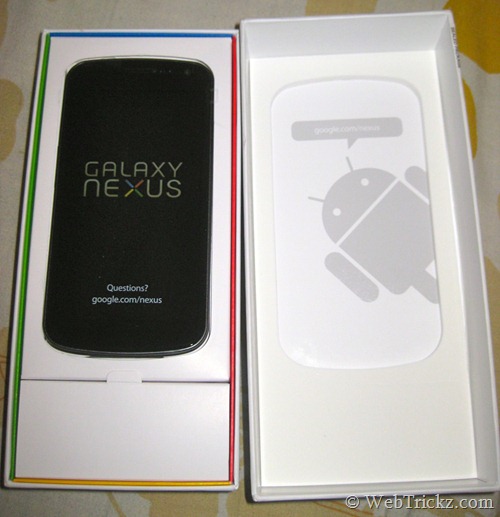 Accessories include: a micro USB cable, 1750mAH battery, Samsung branded In-Ear stereo headphones with 3.5mm jack and Samsung USB wall charger.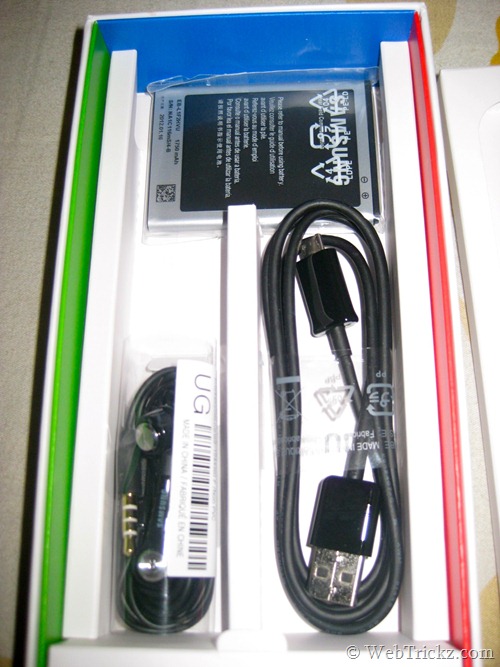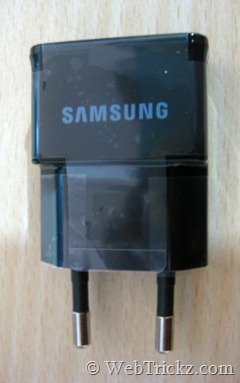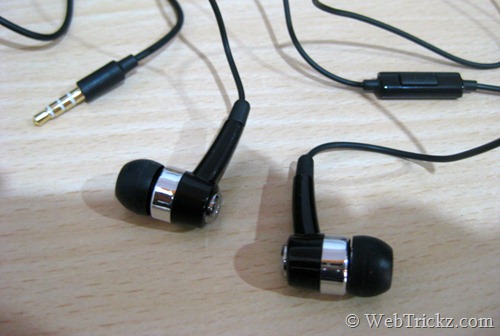 This is a 16GB variant of Galaxy Nexus, the device doesn't offers expandable storage.
The Galaxy Nexus is amazingly thin and lightweight considering it's a really big device. Surprisingly, there aren't any capacitive or physical buttons present to control the device but 3 virtual buttons integrated within its user interface. That's innovative!
Dimensions – 135.5 mm (5.33 in) Height, 67.94 mm (2.675 in) Width and 8.94 mm (0.352 in) Depth. It weighs 135 g (4.8 oz). (Size may vary for the LTE version)
Color – Titanium Silver
On right hand side, there is a power/standby key and 3 gold dock pins. The left side sports a volume rocker, the top portion is empty and at the bottom side there is a micro USB port, microphone and a 3.5mm audio jack.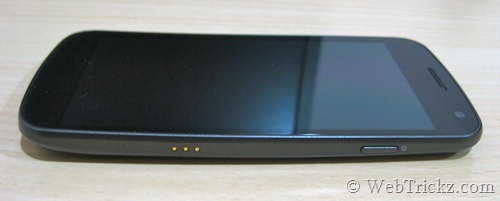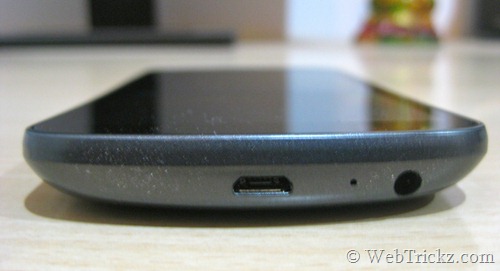 GALAXY Nexus features a redesigned camera – 5.0 MP rear facing camera with LED Flash and 1.3 MP front facing camera, which introduces zero-shutter lag, 1080p HD video recording, Single-Motion Panoramic mode, and effects like silly faces and background replacement. The semi-glossy textured back cover provides a good grip to hold on.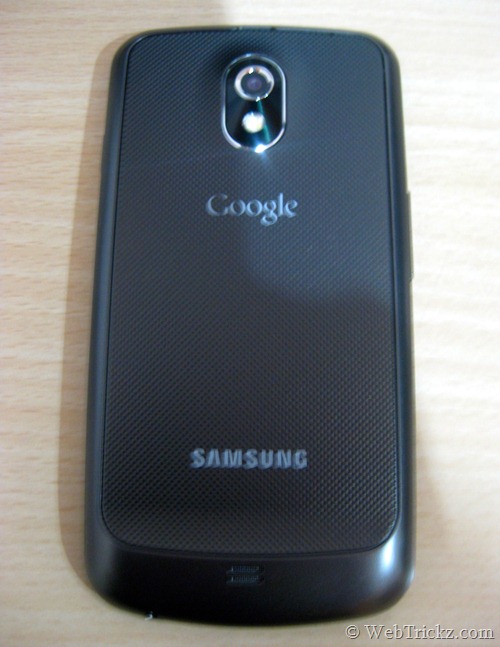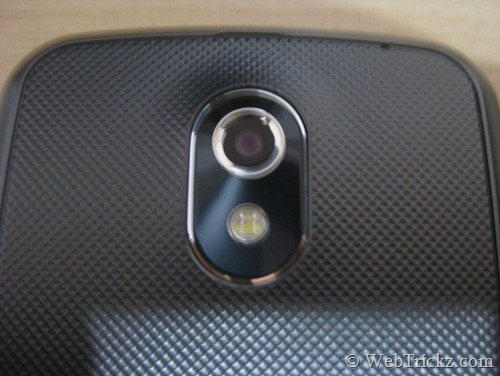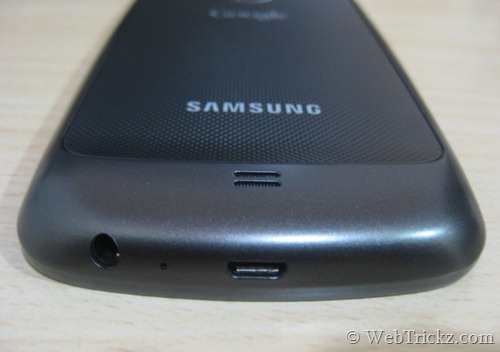 3 color Notification LED – Not sure in what circumstances it glows up, Cool though.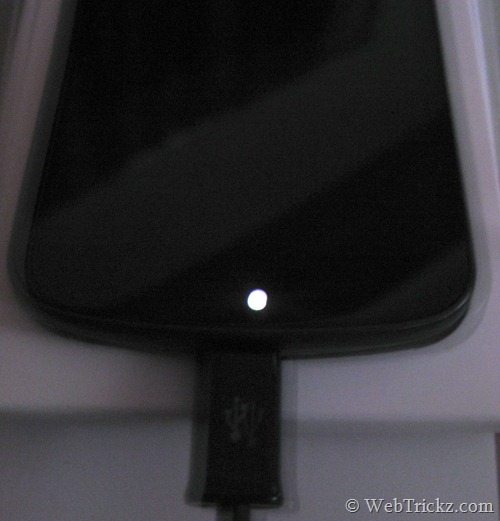 Galaxy Nexus vs LG Optimus One – Thickness comparison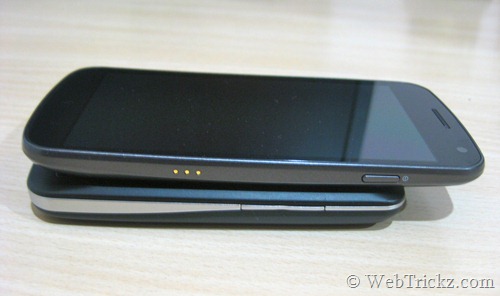 Galaxy Nexus vs Optimus One (P500) – Size comparison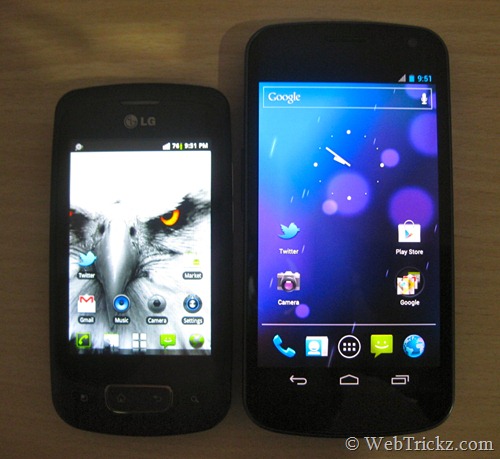 >> Check the above images in bigger size on our Google+ Page. (Album Link)
Don't forget to share your views below. 🙂